TrineOnline programs recognized by Study.com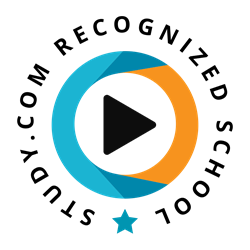 Two Trine University online degree programs recently were recognized for quality, accessibility, affordability and excellence by Study.com, a service to help students earn better grades, reduce college costs and make better college and career decisions.
Trine placed 20th in the organization's national rankings of Best Online Accounting Degree Programs and 28th in its 2019 ranking of Best Online Criminal Justice Degree Programs. The programs are offered through TrineOnline.
Criteria for the rankings included type of degree or degrees offered, career possibilities for which students are prepared, financial aid available, availability of online support services, time frame for degree completion and transfer credit acceptance.
"This recognition highlights the efforts TrineOnline has put into excelling in accessibility, affordability and quality to provide the best education for our online students," said Keirsten Eberts, assistant vice president for TrineOnline. "These elements, combined with program outcomes designed to meet the needs of today's employers, allow TrineOnline graduates to enhance their skills, complete their degrees and advance in their careers."
TrineOnline offers convenient associate's, bachelor's and master's degree programs in Business Administration, Leadership and Management, Engineering and Technology, and Communication, Justice and Psychology. More information is available at trine.edu/online.
Study.com serves more than 30 million students each month, providing information to help users make important decisions regarding their school and career choices.