Trine Combat Robot awarded at national competition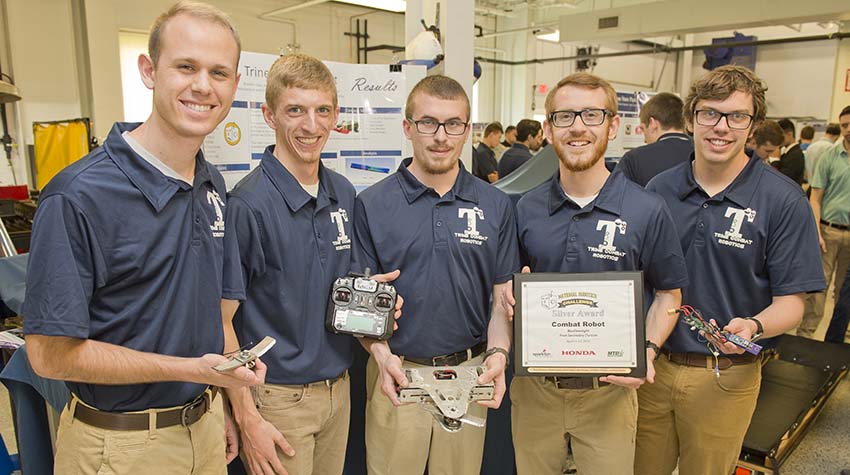 MARION, Ohio — While engineers often take on tasks that help protect the environment or keep people safe, a group of Trine seniors recently earned honors for a project that was more destructive in nature.
A combat robot designed by mechanical engineering majors Kody Snyder from Burnettsville, Indiana, Kyle Munger from Greensburg, Indiana, Stone Miguel from Fort Wayne, Indiana, Jonathan Phillips, from Royal Center, Indiana, and Braden Hale, an electrical engineering major from Scottsburg, Indiana, earned a Silver Award during the National Robotics Challenge (NRC) competition April 12-13 in Marion, Ohio.
The event was one of several robotics competitions hosted by the NRC for students in sixth grade through graduate school. Trine was the only university to place in the Combat Robot competition, which had about 30 entries total.
The project particularly appealed to Phillips, a robotics minor.
"The combat robot competition stuck out as a competition that would offer a challenging mechanical design and electrical design," he said.
The group began with more than 500 hours of combined research into the most effective weapons, materials and battle strategies before building their first robot.
"After many hours of discussion and running our options through selection matrices, we decided to design a robot that utilized a horizontal spinning weapon and would be able to drive no matter which side it was flipped on," Phillips said. "We then proceeded to perform Finite Element Analysis on various materials so that we could optimize the strength-to-weight ratio of our armor and weapon. Through these analyses we chose 2024 T3 Aluminum as our body, and S7 tool steel for our blade."
The first robot was completed before the end of the fall semester. The team then attempted to break it.
"Through our testing, we discovered weaknesses and then designed a second iteration to mitigate those weaknesses," said Phillips. "In total, we designed and build four robots, and even fought two of them against each other to practice."
Before the competition, the team manufactured enough spare parts to build up to three full robots at the competition.
"This would allow for repairs to be made between rounds to give us the best opportunity of success in each fight," Phillips said.
The team fought in six separate flights at the double-elimination competition, winning four. Phillips said in three of the Trine wins, the other team surrendered within a minute of the start of the fight.
"It was very pleasing to see our design be so effective in these fights," he said. "Only one robot was able to truly break our design, and it was no fault of our design. Their weapon was effective, and they won fairly."
Phillips said the team has ideas for design improvements for future Trine teams that choose to participate in the NRC.
"We are grateful, but not settling," he said.
Photo: Exhibiting at Trine University's Engineering Design Expo, from left, Stone Miguel, Jonathan Phillips, Kody Snyder, Kyle Munger and Braden Hale hold their combat robot and the award they received at the National Robotics Challenge. (Photo by Dean Orewiler)