Delta Chi brothers gather to celebrate fraternity's 50th anniversary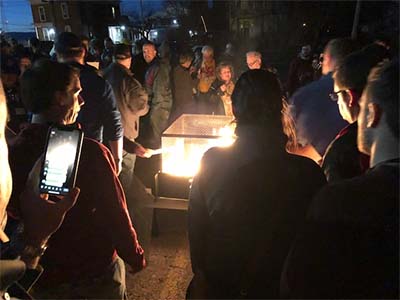 Nearly 400 Delta Chi brothers, spouses and officials joined Trine University officials to celebrate the 50th anniversary of the fraternity's Trine University chapter from April 11-13.
As part of the weekend, the fraternity burned the mortgage for the Delta Chi house, which was paid off in January, just over eight years after it was taken out. Other activities included a golf outing, with 44 brothers participating, as well as campus tours and a dinner/dance for brothers and spouses.
Several members of Beta Phi Theta, the fraternity that preceded Delta Chi on the Tri-State campus, were inducted into Delta Chi.
Delta Chi International President Aaron Otto and International Secretary Tom Carroll were on hand along with other national and international officials for the festivities. Earl D. Brooks II, Ph.D., Trine University president, addressed those who gathered.
Brother Taylor Breidenbach, a graduating senior biomedical engineering major from Brownsburg, Indiana, was presented the "E" Key Award, the oldest award given by the fraternity. Faculty advisor Darryl Webber, Ph.D., also was honored for his efforts.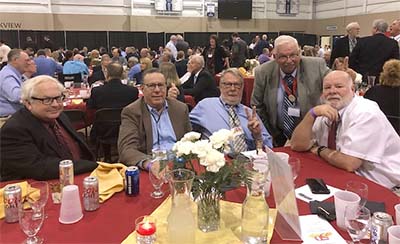 Brother Ray Bevan BSBA 1976 said there are many points of pride for Delta Chi, including being awarded the Delta Chi President's Cup 16 of the last 20 years.
"Most of the leaders on campus are Greeks and help encourage involvement in activities on campus. The Greek system helps to give students a greater bond to the university," he said.
"It was great to see the reactions on people's faces reuniting after many years," Bevan added. "Many were amazed at the multiple changes on campus, from the buildings to the programs (athletic and academic), the student body makeup, and of course our 10-year-old house."
Bevan said he also personally enjoyed reuniting with some brothers who had not returned to campus in more than 40 years.
"It was great to see guys make the effort to return from California, Florida, New England and Colorado, among others, and just hearing the stories of the journeys different brothers' careers have taken them," he said. "One brother, after graduation, went to Notre Dame law school, then the Navy, and is now a federal judge in the Northern Indiana District. Another left Tri-State to attend West Point and is now a decorated retired colonel."
Photos: Top right, Delta Chi members burn the mortgage for the fraternity house during the 50th anniversary celebration. Bottom right, from left, Jeff Maze 1979 BSCE. Robert Armstrong 1979 BSME, Barry Roziewski 1980 BSCE, Ray Bevan 1976 BSBA and Tom Braddock 1977 BSASG reunite at the Delta Chi dinner in the Keith E. Busse/Steel Dynamics Inc. Athletic and Recreation Center.