Eberts named assistant VP at Trine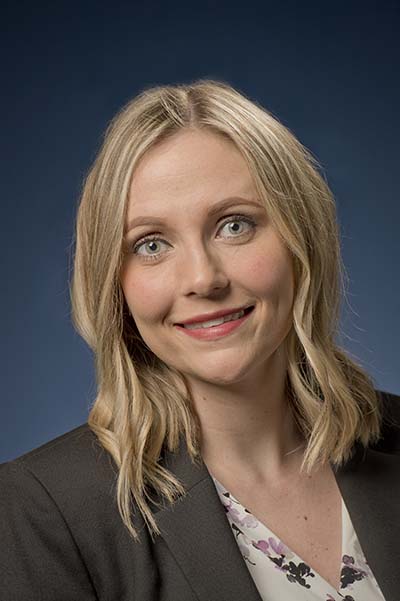 Keirsten Eberts has been named assistant vice president for the College of Graduate and Professional Studies (CGPS) at Trine University.
"Keirsten is an individual of immense character, creativity, professionalism, organizational and communication skill," said Earl D. Brooks II, Ph.D., Trine University president. "She has the strong capacity to bring a diverse group of professionals together focused on a common goal, to build a quality academic online program that will best serve a growing national non-traditional student market, and one that will make the entire Trine University community proud to call its own."
Eberts has served as interim assistant vice president since October, when CGPS shifted to a new, centralized leadership model. Under her leadership, the university has seen remarkable changes to virtually all key aspects of that college's academic and admission programming, processes and systems.
"As a Trine University College of Graduate and Professional Studies alumna, I am honored to now have the opportunity to lead the CGPS team in this role," Eberts said. "The accomplishments we have seen in CGPS over the last few months are a testament to our outstanding team of qualified, passionate staff who are committed to providing a high-quality online education for our students."
In February Trine University launched TrineOnline, a new approach designed to be convenient and cost-effective for students seeking to complete an associate's, bachelor's or master's degree. Offering professionally focused degrees entirely online, TrineOnline is designed to fit the schedules of those who are in the workforce. In support of this effort, more than 90 Trine faculty have completed the university's Online Faculty Certification Course.
Eberts also has assembled a new curriculum coordination team to support the new TrineOnline delivery, and overseen the relocations of Trine's education centers in Indianapolis and Columbus, Indiana, and Sturgis, Michigan.
"As with many schools or departments, our hope is to build enrollment in our program," she said. "However, more than that, our goal for the future centers around providing a high-quality online program that has a significant impact on the lives of our students and prepares them for future success."
A staff member at Trine since 2013, Eberts has served the university in roles with increasing responsibility, including enrollment specialist, senior director of the Angola Education Center and senior director of global partnerships. She also has been an active member of the Angola Area Chamber of Commerce, earning Young Professionals Network Member of the Year honors in 2018 and Volunteer of the Year in 2014.
In addition, she serves as vice president of the board for the Community Humane Shelter of Steuben County.
Eberts graduated from Trine University with a Bachelor of Science degree in psychology in 2014 and a Master of Science in leadership in 2015.