Hershey Scholarship winner speaks at Legion's Washington Conference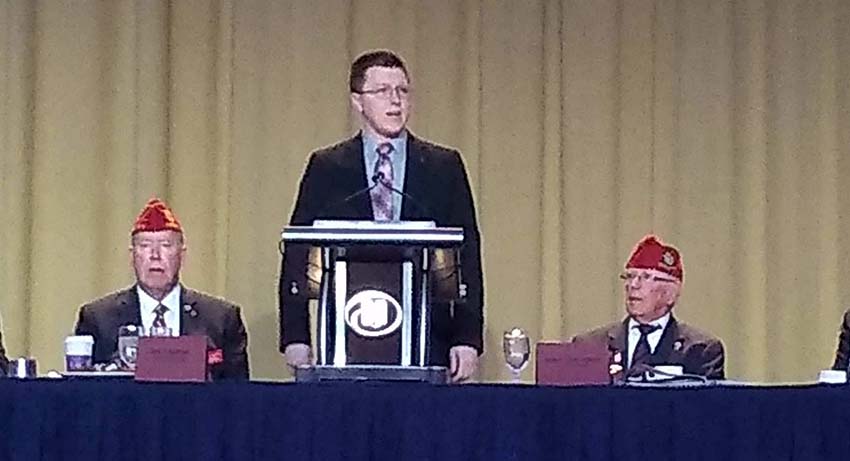 The Trine University student who won the General Lewis B. Hershey Scholarship last fall spoke to veterans during the 59th American Legion Washington Conference in February.
Alexander Fox, a junior from Plymouth, Indiana, majoring in biomedical engineering, received the Hershey Scholarship during halftime of Trine's Oct. 27 football game. After reading his thank-you letter and a packet of information sent by the university, the Legion invited him to Washington, D.C., to speak at the ANAVICUS (Army, Navy, Air Force Veterans in Canada – United States) breakfast on Feb. 25 at the Washington Hilton.
"I mostly spoke about what the Hershey scholarship has allowed me to do, what I do at Trine — including marching band and Christian Campus House — and I talked about earning my Eagle Scout rank," Fox said.
The Legion flew Fox and his mother, Yvonne, to Washington for the event. Prior to the Monday breakfast, they were able to spend the weekend visiting monuments and museums around Washington, D.C., including the Washington Monument, Lincoln Memorial, all the war memorials and several of the Smithsonian Institution museums.
"I liked the National Postal Museum the most," he said. "I wanted to just go there because I thought it would be funny to go look at stamps, but it was actually super cool, even the stamps."
After the ANAVICUS breakfast, Fox spoke with Robert Newman, National Internal Affairs Commission chairman for the American Legion, who presented him the Hershey award in October, as well as Rodney Strong, Indiana state commander for the American Legion, and several other American Legion members.
"Overall, it was an amazing experience. I was really glad that I could go," he said.
The General Lewis B. Hershey Scholarship was established in 1988 by ANAVICUS to honor General Lewis B. Hershey, Trine University alumnus and former director of Selective Service for the United States. The recipient is to be a Trine University sophomore or junior who has demonstrated academic achievement (minimum of 3.0 cumulative GPA) and leadership potential.
Top: Alexander Fox speaks at the ANAVICUS breakfast in Washington, D.C.