Trine inducts four into Athletic Hall of Fame
Trine University inducted four individuals into its Athletic Hall of Fame during the Touchstone and Homecoming Celebration Dinner on Oct. 4.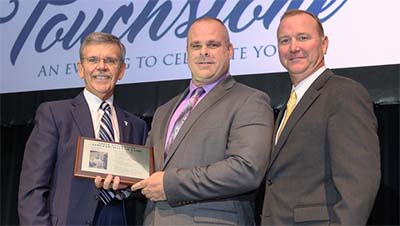 Matt Schlegelmilch, a 1997 chemical engineering graduate, put his stamp on the men's basketball program and solidified himself as one of the best three-point shooters in program history. During his tenure at the university, Schlegelmilch set records for most career three-point field goals made with 290, with an astonishing 43.7 shooting percentage from beyond the arc. He also holds the single-season record of 134 three-point field goals made in the '96-'97 season. Schlegelmilch led the team in points and points per game his junior and senior seasons, earning him a two-time selection to the WHAC First Team All-Conference and contributing to the program's second conference championship in 1995. Schlegelmilch currently resides in Reston, Virginia, and works as a senior systems administrator for The College Board.
Sarah Belote and Andi Gasco competed for the Trine softball team from 2010 to 2013 and are the most prolific catcher – pitcher combination in school history. Through their four-year career they garnered a record of 136 wins and 43 losses, with an astonishing conference record of 52-12. They left the softball program with two conference championships, three conference tournament championships, and four consecutive NCAA Tournament appearances, including a run to the regional championship.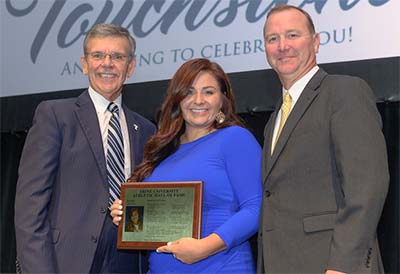 Belote, a 2013 sport management graduate, was not only dynamic from behind the plate, but at the plate. She holds seven individual game records, three of which are still NCAA Division III records: most home runs in a game (4), most runs batted in (14) and most total bases (19). Belote was named MIAA Most Valuable Player her senior year, earned two First Team All-Conference selections, one Second Team All-Conference selection, and a Second Team All-Region selection. She currently resides in the greater Detroit area and works as a campaign director for the non-profit Leukemia & Lymphoma Society.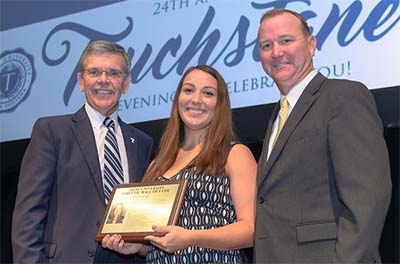 Gasco, a 2013 psychology graduate, was a standout on the softball field. At the time of her graduation, she had rewritten Trine's all-time career record book, breaking a phenomenal 20 school records. A four-time First Team All-Conference selection, Gasco was a dynamic threat from the mound and at the plate. In 2013, she was the first Trine softball player to earn All-American status, being named to the Second Team. She is a two-time MIAA Pitcher of the Year, 2012 MIAA Most Valuable Player, and four-time All-Region selection. Gasco is the only player in conference history to receive both the MVP and Most Valuable Pitcher in the same year. An administrator for Coldwell Banker, she currently resides in Blanchard, Michigan, with her fiancé, Damon, and their 5-month old daughter, Nina.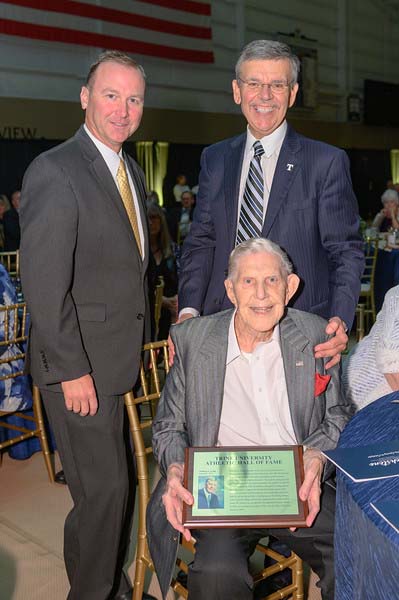 For more than 30 years, Dr. William Gettig has been an avid supporter of the Trine/Tri-State Athletic Department. Dr. Gettig was instrumental in launching the football program. He not only advocated the benefits of having a football program on campus to the Board of Trustees, but also provided significant financial contributions to get the team off the ground. With a trip to the NAIA National Semi-Finals in 1998 within three years of starting the program, Dr. Gettig proved his vision was an early success and forever altered the course of the university. Five MIAA conference championships and 25 years later, Trine has proven to be a Midwest football powerhouse.
Dr. Gettig is also an enthusiastic fan and supporter of the men's golf program. During Tri-State's NAIA tenure, Dr. Gettig sponsored the Gettig scholarship for male golfers, allowing many young men to realize their dream of golfing at the collegiate level. He sponsors the Bill Gettig Golf Invitational each spring. He is so passionate for the sport and the Trine golf team that he attended every tournament for 28 straight years, handing out trophies he personally designed for the event to each of the winners. The same passion and enthusiasm was extended to the men's and women's track programs under Coach Richard Gollnick. According to Coach Gollnick, Dr. Gettig would financially ensure the teams had the resources they needed to be successful.
Dr. Gettig's contributions extend beyond Trine and Tri-State's athletic teams. He provided the Gettig Fitness Center that serves the health and wellness of Trine's entire student population. Each day, students are reminded of the time through our carillon, which greets them with a different chime each hour. Dr. Gettig has proudly served as the university president and chairman of the Board of Trustees, providing invaluable leadership during Tri-State's laboring years. He single-handedly kept the university open when it experienced extreme financial crisis by delivering weekly contributions. Without Dr. Gettig's dedication and passion for Tri-State/Trine, the university would not be the pillar of success it is today.