Japanese high school students visit Trine campus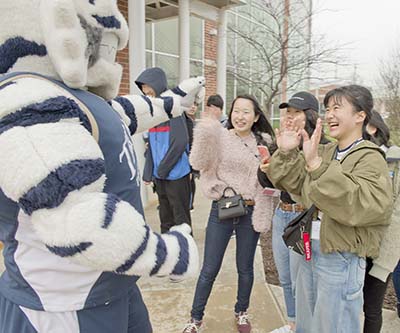 Seventy-six Japanese high school students in the United States for an exchange program visited the Trine University campus on April 23.
The students from Yamate-Gakuin High School in Yokohama, Japan, were accompanied by their teachers and chaperones from Japan, as well as students and chaperones from Garrett High School. The group was in the U.S. from April 12-26 as part of an ongoing exchange program between their high school and schools in northeast Indiana.
Two employees from Funai Services in Columbus, Ohio — Ai Collins, Director Business Development, HR and Accounting, and Manami Akiyama, an intern from Japan — came to campus as guest speakers to share the importance of going to college and learning English as a Second Language as the economy becomes more globalized.
The students also had the opportunity to try out the skating rink at the Thunder Ice Arena.
Julie Williams, a math teacher and Japan Exchange Program Coordinator at Garrett High School whose daughter graduated from Trine in 2015, worked with the Office of International Services to coordinate the visit.
"I'm really glad we worked out such a wonderful experience for the Yamate students," said Williams. "Ice skating was such a huge hit! They were so thankful for the opportunity, as that was the first time ice skating for many of them! Having all the hockey guys on hand made it especially wonderful! The students couldn't believe how much fun touring a college could be!"
Photos by Dean Orewiler