Trine student athletes attend NCAA Leadership Forum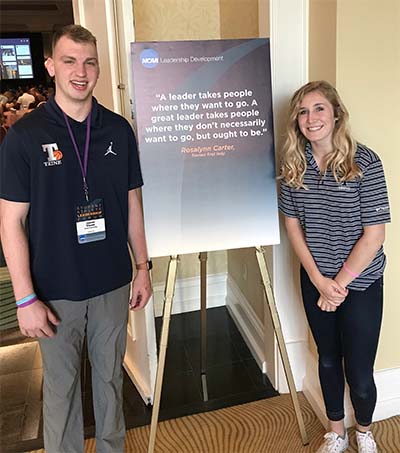 CHAMPIONSGATE, Fla. — Two Trine University student-athletes participated in the annual NCAA Student Athlete Leadership Forum, held April 11-14 at the Omni Orlando Resort in Championsgate, Florida.
Juniors Jason Clune, an elementary education major from Meadville, Pennsylvania, and Madison Sanderson, a communication major from Leo, Indiana, participated in sessions, activities and projects designed to develop leadership skills and help students get a better understanding of the NCAA as a whole.
"A lot of our time was spent in our 'color groups,' which were our small groups (around 30 people each)," said Sanderson, who plays soccer at Trine. "During this time, we would dive deep in different topics ranging from individual leadership philosophy and strength statements, core values, emotional intelligence, crucial conversations and more.
"This was one of my favorite and most impactful parts of the conference. I was able to really take a look at my strengths and weaknesses as a leader and learn how to grow into the leader that I want to be."
"I walked into a room of 35 people who were strangers on day one," said Clune, who plays basketball and serves as president of Trine's Student Athletic Advisory Committee (SAAC). "After sessions where we talked about different leadership philosophies, finding our core values, and results of the Gallup's Clifton StrengthsFinder assessment, where we learned our personal strengths, this group of 35 people started to feel more like family than strangers. Everyone has a story, and I was blessed to have the chance to share a little bit about mine through this experience and hear about others' stories."
Sanderson said she also enjoyed hearing from keynote speaker Chris Norton, a motivational speaker and former NCAA Division III football player.
"Hearing his story and how he has overcome so much in his life was very inspiring," she said.
Clune enjoyed the opportunity to interact with athletes and advisors from all divisions of NCAA competition.
"I liked hearing what challenges others were having as well as what they were doing that worked well," he said.
"I learned so much about what I value in myself and in others," Clune said. "Really diving into finding my core values made me realize how I go about life because of what I value and put as a priority. This also impacted me in being able to see things from someone else's perspective. Everyone leads in a different way and everyone is a leader in some way, regardless if they have a title as a leader or not. Now as I reflect on this amazing experience, I will think about how everyone's core values shape their story and try to use what I learned to become a better leader and man."
"What I learned at the conference will allow me to be a better individual and leader in any school position or future career I may have," Sanderson said. "I now know how to use my values and strengths to lead to the best of my ability, and to work on my weaknesses to improve in any positions I may hold."
Photo: Jason Clune, left, and Madison Sanderson at the NCAA Student Athlete Leadership Forum.