White retires after 14 years at Trine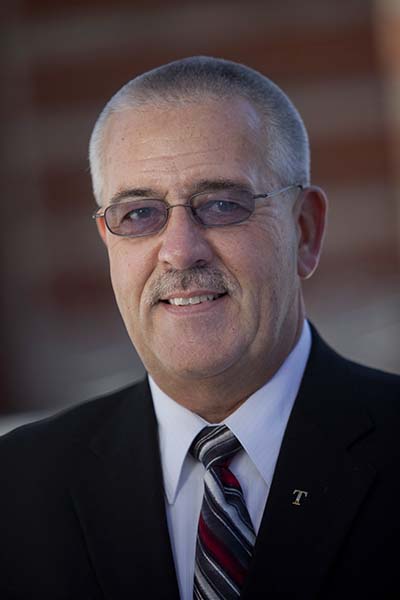 After a tenure that has seen sweeping changes to campus and explosive growth in the residential student body, Randy White has retired as vice president for student services at Trine University.
"We are grateful beyond words for Randy's exceptional service to the university and its students," said Earl D. Brooks II, Ph.D., Trine University president. "His 14 years at Trine have positively impacted the lives of many who came through this campus. His efforts also have enriched and will continue to enrich the culture of northeast Indiana."
White first became involved with what was then Tri-State University near the end of his 26-year career in management at Pokagon State Park. He was working on his master's degree and one of his professors, who was chair of Tri-State's School of Business, asked him if he would teach some business courses.
He served as an adjunct faculty member for both the traditional and adult programs.
"I enjoyed being able to relate my business experience to students," he said.
He left Pokagon to serve as a project manager and guest lecturer at Indiana University, but found that work put him "too far away from people" and returned to Tri-State as full-time dean of student life in 2005.
His work at Trine has included planning and implementing programs to serve the growing number of residential students on campus, now more than three times what it was when he began. Since his promotion to vice president in 2010, he has overseen residence life, academic success, campus safety, counseling, student activities, mail services, the food service and health and wellness.
"I had the opportunity every single year to see new students come in from all walks of life — bringing with them a degree of anxiety — and to help them put things in perspective early on and, four years later, see them walk across the stage and receive their degree," he said. "I can't think of anything more rewarding."
He also has seen a tremendous amount of change to Trine's physical campus.
"I'm proud to have been part of this team," he said. "Just to see the transformation of this campus has been a blessing."
Though retired from his student services work, White will continue to work for the university booking and promoting concerts at the T. Furth Center for Performing Arts, a task he has managed since the building opened.
"It's great to bring legendary acts and put them on stage here in Angola," he said. "Even though I'm not a fan of all the genres, I always enjoy watching the audience get into the performance."
His plans for retirement include spending time on the lake and camping with his wife, Terri, who is retiring as a teacher from Fremont Community Schools. The couple also plans to head south during the winter months and spend more time with grandchildren.
White said he and his family are grateful for all they have received during their time in Angola and Steuben County.
"We have had a lot of support from the community throughout our years here, since we moved to Angola in 1978," he said. "This is home."