Shaw honored with Trine's Pillar of Success award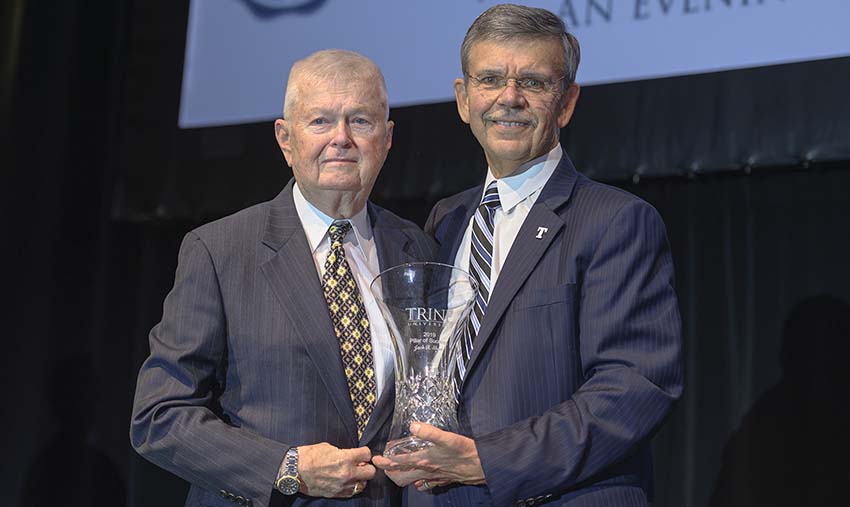 Dr. Jack Shaw admitted it was an uncharacteristic moment.
"People who know me said this moment would never come, where I wouldn't know what to say," he said, as he accepted the 2019 Pillar of Success award from Trine University.
"We know that we graduated from Purdue and people always give us trouble about that here, especially the president," Shaw joked, "but this is a fine place. The people on the Board of Trustees are fine people to be a part of, and Suzie and I have always treasured them. This honor is more than I deserve or I could ever have thought about, and I appreciate it more than I can say."
Awarded during the university's annual Touchstone and Homecoming Celebration Dinner on Oct. 4, the Pillar of Success recognizes individuals for their achievements and accomplishments, leadership, service, philanthropy, commitment to their community and profession, and to Trine.
In presenting the award, Trine President Earl D. Brooks II, Ph.D., praised Shaw as "a great leader, role model and patriot for whom I have much admiration and respect."
"Jack has spent countless hours on our campus, with one thing in mind: How do we make the experience and education better for our students," Brooks said. "We are honored to have such an experienced and accomplished friend and asset to the university."
An Auburn, Indiana, native, who now lives in Coldwater, Michigan, Shaw graduated from Purdue University with a degree in electrical engineering. His career included everything from managing small companies to leading one of the highest-valued technology companies on Wall Street, Hughes Electronics Corporation, and participating in six startup companies either as an investor or principal.
Besides his service on the Hughes board, he has served on the Sirius-XM Board, Globecomm Systems Board and as chairman of the Community Health Center of Branch County.
He was named a Purdue Outstanding Electrical Engineer and a Purdue Distinguished Engineering Alumni in 1994. In May 1998, Purdue awarded him an honorary doctor of engineering degree. He received an honorary doctor of science from Capitol College in 1994, and was honored for "Contributions to World Communications" by the Radio Club of America. He was presented with the U.S. Ambassador to India's Award for Distinguished Service in 1997 and received the Compass Award as the 1998 Maryland Global Leader of the Year. In March 2000, he was honored by the National Society of Black Engineers with the Golden Torch Award as Executive of the Year.
Shaw is currently vice chairman of the Trine University Board of Trustees, where he has served since 2010. He also leads the board's Executive Committee and serves on the Development/Campaign Committee.
His wife Sue has served as a member of Trine's Scholarship Gala Committee, helping to raise millions of dollars for student scholarships, and the couple have financially supported many projects at Trine, including the Trine Fund, athletic programs, the Parkview/Sport One softball stadium, Books and Beyond Scholarship program, the Scholarship Gala and Trine's golf outings. The university's press box at Fred Zollner Athletic Stadium was named in honor of the couple's continuous support of the university in 2011.
In honor of a generous gift, the Zamboni in the Thunder Ice Arena sports photos of Doc and Rusty, the couple's two Clydesdales from Great American Clydesdales in Orland. A message honoring Marvin and Vera Shaw, parents of Jack, and Albertus and Gladys Collins, parents of Sue, is also included on the vehicle.
Photo: Dr. Jack Shaw, left, receives the Pillar of Success award from Trine University Earl D. Brooks II, Ph.D., during the university's annual Touchstone and Homecoming Celebration Dinner on Oct. 4. (Photo by Dean Orewiler)