Big Man on Campus raises nearly $16,800 to fight breast cancer
By Jarod Davis
Communication '20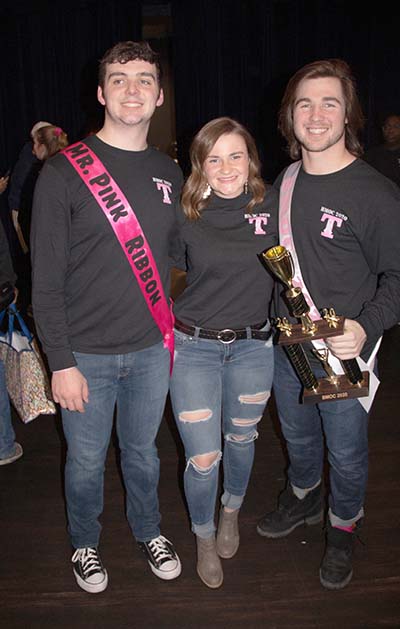 The 20th annual Big Man on Campus (BMOC), sponsored by Trine's Theta Phi Alpha sorority, raised nearly $16,800 for the Vera Bradley Foundation for Breast Cancer.
This year's total is the highest amount ever raised through BMOC, beating out the previous record of $12,755 from 2018.
"The Bingo Boards, Online Silent Auction, Pay to Pop and the selling of 'Retro' BMOC shirts was all new," said Kennedy Brough, director of BMOC and president of Theta Phi Alpha. "Without sisters constantly posting about all these on social media and stepping out of their comfort zones with me, the record-breaking amount never could have happened."
One representative from each fraternity as well as, for the first time, a representative from Student Government and the Christian Campus House also participated, making a total of 10 male contestants this year. Christopher Schuttler, a senior civil engineering major from Orlando, Florida, earned first place; Rob Gorman, a senior civil engineering major from Beech Grove, Indiana, placed second; and Caleb Herber, a senior design engineering technology major from Fort Wayne, Indiana, placed third. Gorman was also named Mr. Pink Ribbon, which recognizes the contestant chosen by the other competitors for showing the most enthusiasm and sportsmanship during BMOC week.
Other contestants included Colton Kuchta, a sophomore electrical engineering major from Crown Point, Indiana; Jarod Davis, a senior communication major from Angola, Indiana; Sandeeb Kurian, a senior design engineering technology major from Elkhart, Indiana; James Purkey, a senior English major from Angola, Indiana; Terry Ratliff, a senior design engineering technology major from Onsted, Michigan; Ike Sheehan, a junior electrical engineering major from Rushville, Indiana; and Cole Sullivan, a junior design engineering technology major from Avon, Indiana.
Contestants' total scores were compiled from three separate categories: Penny Wars, War Night and the pageant.
Penny Wars made up 20 percent of contestants' overall scores and took place during the week leading up the pageant. For this event, each contestant decorated a jug and tried to get it filled with as much money as possible. This year, the contestants raised more than $5,000.
War night took place on Feb. 12 and counted for 20 percent of the final score. At this event, contestants gathered their friends to compete in a series of games, which included an obstacle course, a dizzy bat race, a makeup competition, jump robe and tug of war.
Pageant Night, held Feb. 14, was the final event and made up of 60 percent of the score. This event included talent, What BMOC Means to Me, pick-up line, dress like your hero, and Q&A.
Near the end of the pageant, the event introduced Syndi Tunberg, the mother of Theta Phi Alpha sister and BMOC co-host Aubrey Tunberg. A video played of Syndi and Aubrey sitting down to talk about the importance of breast cancer research and how research has specifically improved Syndi's life after she was re-diagnosed. The contestants surprised her on stage with flowers and hugs after the video finished.
"Everyone involved in the event did their jobs absolutely phenomenally. I can never thank everyone enough for what they did — including all the help from the Vera Bradley Foundation," said Brough.
Photo at right: From left, Mr. Pink Ribbon, Rob Gorman; Kennedy Brough, director of Big Man on Campus and president of Theta Phi Alpha; and Christopher Schuttler, first place in Big Man on Campus. (Photos by Kacie Galloway)
Last Updated: 02/28/2020