Trine alum pivots from powertrains to PPE in coronavirus fight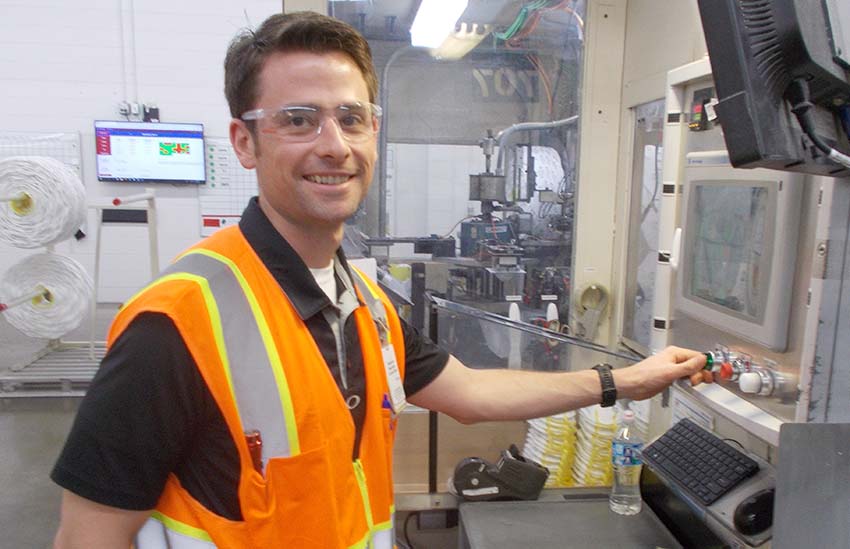 LIVONIA, Mich. — People across the United States have made sudden adjustments to help contain the spread of the novel coronavirus this spring.
For 15 days, Trine University graduate David Stewart made a bigger adjustment than most, putting his production expertise to use in a different field to help protect front-line workers.
The 2014 mechanical engineering graduate was one of 35 Ford Motor Company engineers who traveled to the 3M plant in Aberdeen, South Dakota, to assist that company in ramping up production of N95 particulate filters for healthcare professionals.
Stewart began working at Ford right after graduating from Trine. He works as a round parts machining engineer in the company's Powertrain Manufacturing Engineering (PTME) organization. His group is specifically responsible for transmission gears.
"Our team is responsible for working with Product Development to understand if a given design is manufacturable," he explained. "Once a design is agreed upon, we then bid the required equipment, work through the procurement process with Purchasing, oversee supplier equipment design and build phases, and then work with the Ford Plant team throughout the final installation phase.
"In simplified terms – our organization develops turn-key solutions for all powertrain plants globally so the local production team can focus on making great products for our customers."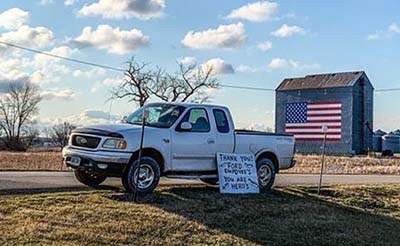 Ford and 3M officially partnered on March 19 to support front-line workers in the coronavirus fight.
"3M is the expert in N95 particulate filters and Ford is the expert in complex mass production," Stewart said.
The morning of March 24, Ford put out a call for engineers to volunteer to be part of the collaboration with 3M.
"That afternoon we had a WebEx conference with approximately 50 engineers on the line," Stewart said. "After reviewing some details there was an Apollo 13 'Go-No Go' for launch sequence where each engineer confirmed they were able to volunteer for the assignment. At the end of the call there were 35 engineers on the 'go' list."
With air travel deemed too high-risk for the trip, Stewart and two other Ford engineers left at 6 a.m. the next day in a Ford Expedition — "a great road trip vehicle," he said — on the 14-hour drive to Aberdeen. He said the entire 3M plant was "Minnesota Nice" – calling back to 3M's origins in the Land of 10,000 Lakes — and welcomed the newcomers into their facility.
"Once inside, there was no Ford or 3M. It was one team supporting a common goal," he said.
The goal of Stewart's team was to help 3M rapidly scale production of the N95 masks. The Ford engineers brought the company's more than a century of experience in "pulling every available unit of production from its equipment," Stewart said.
Their first 12 days there, the Ford team ran machines along with the 3M operators in order to determine how to rapidly scale production. For their last three days there, they worked with the 3M team to eliminate bottlenecks, improve onboarding/training techniques and identify supplier technical improvements.
Stewart said the Ford team was able to increase production in a matter of days, with masks being airfreighted daily out of the Aberdeen airport.
"I think I speak for the entire Ford and 3M team when I say it was a great honor to be part of this effort supporting our nurses, doctors, firefighters, police and all front-line workers during this time," Stewart said.
The collaboration was part of several efforts Ford is making to help in the fight against the novel coronavirus. The company has also begun production of a new powered air-purifying respirator, following consultation with 3M, at its Vreeland facility near Flat Rock, Michigan. It is producing face masks at its Van Dyke Transmission Plant and is working to manufacture reusable gowns from airbag materials. It also is lending manufacturing support to help Thermo Fisher Scientific quickly expand production of COVID-19 collection kits for patient testing.
Photos: Top, David Stewart, 2014 BSME, operates a machine at the 3M plant in Aberdeen, South Dakota. At right, one of the workers from the Aberdeen plant made a sign thanking the Ford team for their assistance.
Last Updated: 06/30/2020