Trine University, Pokagon State Park honored by Indiana DNR State Parks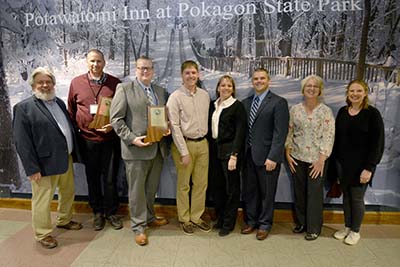 Trine University and Pokagon State Park recently were honored by the Indiana Department of Natural Resources' Division of State Parks for cooperative efforts for improvements at the park.
The division presented a 2019 Partnership Award to staff from the university and the park during its annual leadership conference, held at Pokagon State Park on March 4. The event honored volunteers, partners and employees for their commitment to conserve, manage and interpret resources while creating memorable experiences for everyone.
The award recognized several projects that Trine and Pokagon State Park have worked on together, including an ice-cutting machine that creates a uniform thickness on the toboggan track ice and ensures a smoother ride for guests, an improved toboggan launching system that includes a sled design for summer toboggan use, and the design of a trail-grading machine.
"These collaborations offer a wonderful opportunity for Trine University students to get hands-on experience with real-world projects, allowing them to apply skills learned in the classroom as well as learning how to work with clients," said Jason Blume, executive director of Trine innovation 1. "In return, the students have been able to develop some innovative solutions that will benefit Pokagon State Park and everyone it serves."
Partnership Awards recognize cooperative efforts by a Division of State Parks Property and a community organization that support projects and facilities to serve property guests. Three Partnership Awards were presented for 2019.
Photos: Top, from left, Ryan Overton, Ph.D., dean, Allen School of Engineering and Computing; Karen Hinton, deputy director, Indiana State Park Inns; Jason Blume, executive director, Trine innovation 1; Ted Bohman, park manager, Pokagon State Park; Nick Brown, assistant park manager, Pokagon State Park; and Terry Coleman, North Region director, Indiana Department of Natural Resources. In the background at the podium is Dan Bortner, director, Indiana State Parks. At right, from left, Dan Bortner, director, Indiana State Parks; Ted Bohman, park manager, Pokagon State Park; Jason Blume, executive director, Trine innovation 1; Nick Brown, assistant park manager, Pokagon State Park; Tammy Sawvel, office manager, Pokagon State Park; Ryan Overton, Ph.D., dean, Allen School of Engineering and Computing; Barb Swallow, assistant office manager, Pokagon State Park; and Nicole Ball, naturalist, Pokagon State Park. (Photos by Scott Miner / Potawatomi Inn)
Last Updated: 03/27/2020