Gustin, Jones assume new roles at Trine
Two Trine University staff members have taken new roles to assist in serving the student body and building community on campus.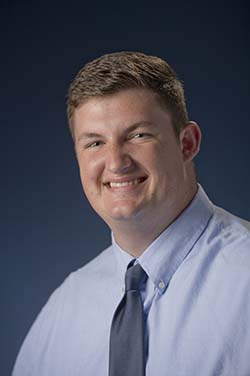 Evan Gustin, who most recently served as director of student activities, is now assistant dean of student services.
Reporting to the dean of students, the assistant dean of student services assists with administration of all programs related to meeting the social and developmental needs of the student body, including the student judicial system and Student SERVE Program. The role also assists with retention and strategic planning processes, and with maintaining discipline and enforcing university rules.
"Evan is well-known and well-liked by the student body through his work at Trine, and has a passion for helping students achieve their educational and life goals," said Cisco Ortiz, dean of students. "I look forward to seeing him excel in this new role."
Gustin started working at Trine in 2019 as an admission counselor, and became director of student activities later that year. He graduated from Ball State University in 2018.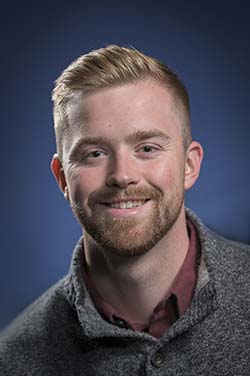 Christian Jones will replace Gustin as director of student activities. Jones most recently served as an admission counselor at Trine.
"We are thrilled to welcome Christian to the Student Success & Engagement team," said Jeremy Howard, director of student engagement at Trine. "His passion for bringing students together and his continued dedication to serving his alma mater will help strengthen student activities and continue enhancing our mission to optimize student success through purposeful, meaningful engagement."
As director of student activities, Jones will be responsible for fostering social relationships and cultivating community and Trine spirit through campus extra-curricular programs, including special events such as Week of Welcome, Bingo for Bucks, Homecoming, Finals Week Activities and Senior Celebration. He also will advise the Inter-Fraternal Council (IFC) and Greek Leadership Council (GLC), and coordinate CHAT (Cultural Humanities Arts at Trine) events.
Jones graduated from Trine University in 2018 with a degree in sport management.
Last Updated: 09/30/2020