Makenna Hartline named outstanding senior female athlete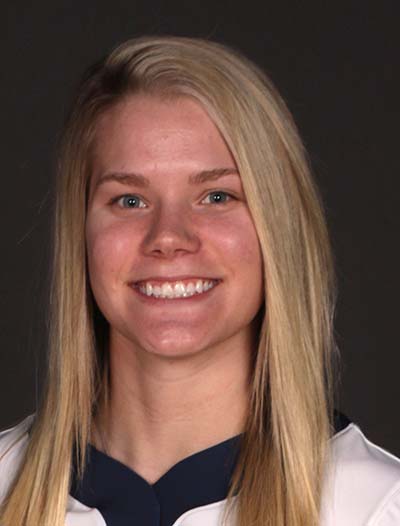 Trine University softball's Makenna Hartline (Niles, Michigan / Brandywine) has been named the winner of the university's top senior female student-athlete award, the Cheryl L. Coons Award, given to the senior female student-athlete who best embodies the qualities of leadership, character, citizenship, scholarship and the spirit of true competition.
Hartline leaves Trine as one of the best to take the softball diamond for the Thunder, even with only three seasons on her resume.
She has been named NFCA All-Region three straight times, the first two as second-team selections before being named first-team in 2019. This season she started the year as one of the NFCA's Preseason Top-50 "To Watch," the organization's shortlist for its player of the year award.
At the conference level, Hartline has been just as honored, earning All-MIAA accolades each year. She has been a first-team selection for the last two seasons. In 2019 she led the Thunder to an MIAA championship and was named Position Player of the Year for her outstanding play.
She is one of a select group of Thunder softball players to have played at two NCAA Division III National Championship sites, including a seventh-place finish her freshman year and a third-place finish in 2019.
Despite missing out on her senior season, Hartline boasts multiple top-ten career statistics at Trine. She finishes with 152 runs scored, third overall at Trine. She is fourth with a .456 career on-base percentage and 33 home runs and fifth with a .678 slugging percentage and 72 walks. She also sits in first having been hit-by-pitch 24 times.
She also goes down as one of the team's most consistent performers, having started 131 of 131 games through her first three seasons.
"Kenna is an amazing example of a student-athlete," says head coach Don Danklefsen. "She is very active in the community, has high academic standards and is one of the best players to play for Trine. I am very proud of all she has accomplished. This award speaks volumes of the type of person she is."
Hartline has volunteered with Special Olympics of Stueben County during her four years at Trine. She will graduate with a degree in exercise science and will be pursuing a graduate degree in physical therapy at Andrews University.
Last Updated: 06/30/2020