Cable promoted to Chief Information Officer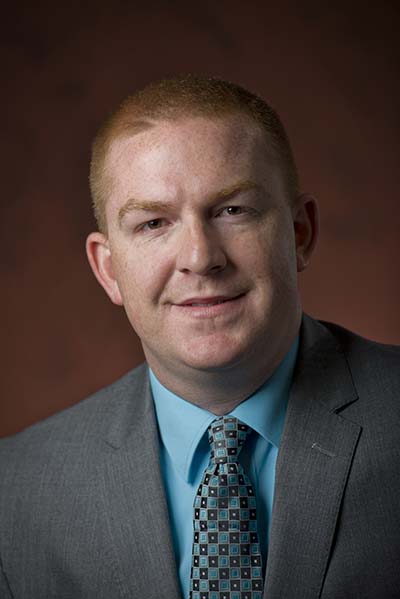 In order to help meet the information technology and cybersecurity needs resulting from continued growth, Trine University has promoted Jason Cable to the new role of Chief Information Officer.
"Jason has proven to be a capable, effective information technology leader during a time of unprecedented expansion in enrollment and academic programming at Trine University," said Earl D. Brooks II, Ph.D., Trine University president. "His guidance will be crucial as the university continues to grow and seek new opportunities to meet the needs of students, employers and communities. We look forward to all he will accomplish in this new role."
Cable has been director of information technology at Trine since 2014, after joining the university as associate systems administrator in 2013. Under his leadership, the university has enhanced its campus network to accommodate record enrollment, enlarged its support and information technology services, improved cybersecurity systems and procedures, and upgraded academic systems and software.
In his new role, which supervises the university Help Desk as well as IT Operations, Cable will be responsible for the overall planning, organization and execution of all IT functions at all campus locations. He also will manage and direct the security posture of the university through employee training, policies and vendor support.
"I'm honored by the confidence the university and Dr. Brooks have placed in me, and excited to serve in this new role," Cable said. "With the support of the expert, dedicated professionals who make up the IT and Help Desk staff at Trine, I hope to continue to develop innovative solutions to provide a framework for the growth of Trine University into this new decade."
In addition to his work at Trine, Cable is a Senior Master Sergeant in the United States Air Force Reserve, where he has served since 2005. He currently serves as a flight chief supervising aircraft maintenance.
Prior to coming to Trine, Cable served as network administrator for the Noble County Public Library system. Other previous roles included IT manager for Girl Scouts of Northern Indiana-Michiana and assistant network administrator for Peoples Federal Savings Bank.
Cable holds a Bachelor of Science in data communication system technology from ITT Technical Institute.
Last Updated: 01/08/2020