Lilly grant to fund extended reality technology at Trine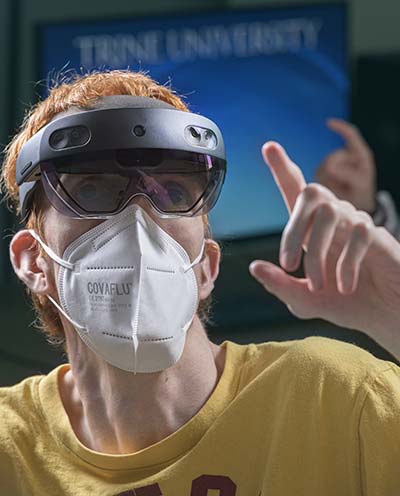 INDIANAPOLIS — Trine University has received a $1 million grant from Lilly Endowment Inc. to provide programming and resources to implement and expand extended reality technologies across campus.
The grant is part of the second phase of Charting the Future for Indiana's Colleges and Universities, an initiative by Lilly Endowment to help Indiana's 38 higher education institutions further develop strategies to strengthen their effectiveness and sustainability.
The funds will be used to purchase software and equipment to implement extended reality laboratories and educational experiences university-wide. Extended reality includes cutting-edge technologies such as augmented reality, virtual reality and mixed reality.
"With new technologies and applications for them developing constantly, it is critical to stay ahead of the curve and allow our students to train using the most up-to-date equipment and concepts," said Earl D. Brooks II, Ph.D., Trine University president. "We are grateful for the generous support of Lilly Endowment as we prepare Trine University students to succeed, lead and serve in the workforce of the future."
Lilly Endowment is making $108.2 million in grants available to Indiana colleges and universities throughout three phases of the Charting the Future initiative. In the second and third phases, Lilly Endowment is providing grants to support strategies and programs likely to prepare students for rewarding employment, especially in Indiana; enhance the viability of higher educational institutions; and enable institutions to further their educational missions more effectively in new or innovative ways.
Trine University received a $100,000 grant in 2019 to assist with strategic planning as part of the initiative's first phase.
Lilly Endowment Inc. is a private philanthropic foundation created in 1937 by J.K. Lilly Sr. and his sons Eli and J.K. Jr. through gifts of stock in their pharmaceutical business, Eli Lilly and Company. While those gifts remain the financial bedrock of the Endowment, the Endowment is a separate entity from the company, with a distinct governing board, staff and location. In keeping with the founders' wishes, the Endowment supports the causes of community development, education and religion and maintains a special commitment to its hometown, Indianapolis, and home state, Indiana.
Photo: Teddy Yagodinski, a computer science and information technology major from Angola, Indiana, uses a pair of virtual reality goggles in Trine University's new Virtual Reality/Augmented Reality Lab. Trine has a received a $1 million grant from Lilly Endowment to provide programming and resources to implement and expand such technologies across campus. (Photo by Dean Orewiler)
Last Updated: 09/22/2020