Trine engineering management program ranked among most affordable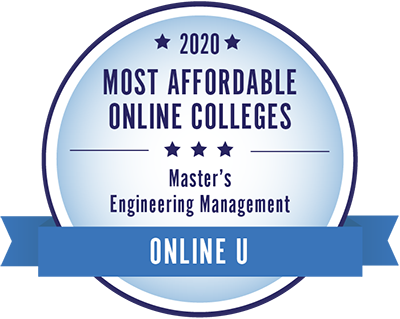 Trine University's Master of Science in engineering management (MSEM) degree program, offered through TrineOnline, has been named one of the most affordable in the nation by Optimal, formerly SR Education Group.
In the company's 2020 rankings of the 25 most affordable online master's in engineering management programs in the United States, Trine University placed 11th. Trine's program ranked second among private, nonprofit schools, and was ranked the highest of any college or university in Indiana.
"With low tuition costs, no hidden fees and an increasing number of courses and even degree programs offering free textbooks, TrineOnline programs are at the forefront of providing a quality education at an affordable price," said Keirsten Eberts, assistant vice president for TrineOnline. "We are grateful for this recognition and look forward to continuing to provide value to our graduate and undergraduate students."
Designed for those with engineering skills who want to step into a management role, Trine's Master of Science in engineering management offers training in areas such as corporate culture, leadership, finance, operations strategy and marketing. Course work includes business ethics, public speaking and decision-making classes geared toward the technical professional.
Optimal's 2020 Most Affordable Online Colleges rankings, released on OnlineU, are designed for students who would like to find online accredited degrees with the lowest cost. The company says these 152 program rankings highlight schools making an effort to provide an economical option for prospective students.
"Our goal is to show data that is difficult to find elsewhere," said CEO Sung Rhee. "We want people to know how their education choices can measurably impact their financial futures."
The company said some of the programs with the best return on investment include information technology, engineering and marketing.
About Optimal™
Optimal helps prospective students make informed, data-driven decisions to improve their collegiate experience and their post-college careers. The company provides more than 85,000 in-depth student reviews and college rankings for every major based on alumni salaries and manually researched tuitions. Optimal's tools and services provide accessible, transparent financial data regarding cost and earning potential that give students educational paths that lead them to success, without burdening them with insurmountable debt.
Last Updated: 03/30/2020