Trine student's honors project looks at COVID-19 impact on area's Hispanic, Latino communities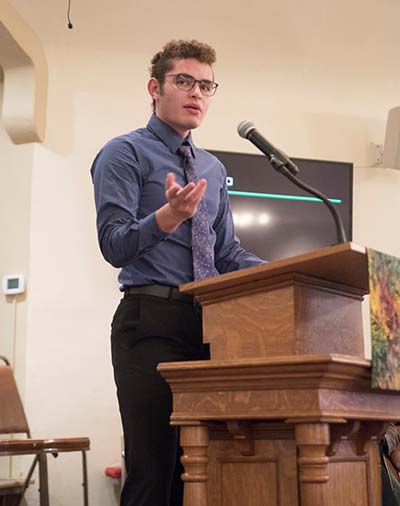 As a board member at the Hispanic Leadership Coalition of Northeast Indiana (HLCNI), Nikolaos Rivera has seen the impact of the COVID-19 pandemic on northeast Indiana's Hispanic and Latino communities.
Rivera, who will graduate from Trine University this month with an exercise science degree, used that experience as the basis of his honors research project for the university, which he hopes will be a springboard for graduate work.
"After it's been thoroughly polished, I would love to have it published in some form as well," he said.
Rivera got the idea to focus on COVID-19's impact on the Hispanic and Latino community while working with the HLCNI over the summer. The organization faced increased requests for financial assistance and worked to educate its community on the importance of seeking medical treatment and maintaining social distancing protocols.
"I felt that the problems being tackled by the Hispanic and Latino communities were unique and nuanced among the general population," he said.
As he researched the topic, he expanded the scope to compare Hispanic and Latino problems during COVID-19 with issues faced by refugee populations around the world.
"Dr. Cathy Swick and Prof. Lauren Kocsis both helped me expand the topic to include refugee and migrant populations worldwide," he said. "We created a meta-analysis that I'm very proud of."
Locally, he found that factors such as financial instability, less access to healthcare and cultural and language barriers contributed to increased COVID-19 impact on the Hispanic and Latino community. His conclusion recommends steps such as increased food support and making sure literature is available in needed languages and dialects.
Rivera first became aware of HLNCI three years ago while a student at Ivy Tech, when he received one of the organization's annual scholarships for low-income, Hispanic students.
"Ever since then, I've become more and more involved in the organization to the point that in December of 2019 I applied for and was named a board member of the organization," he said.
He has been accepted to Northwestern University to pursue a Master of Public Health degree. He hopes eventually to work to improve upon minority health on a national level and the healthcare of refugees globally.
Trine University's Honors Program is open to students who maintain a 3.5 or higher GPA. Students who complete an approved research or extended service or opportunity earn Honors Program with Distinction upon graduation.
Photo: Nikolaos Rivera speaks during Diversity Sunday in 2018, presented by Trine University's Multicultural Student Organization at the First Congregational United Church of Christ in Angola. Rivera recently completed an honors research project at Trine focusing on the impact of the COVID-19 pandemic on northeast Indiana's Hispanic and Latino communities.
Last Updated: 12/04/2020