Paying forward: Deputy's encouragement inspires law enforcement career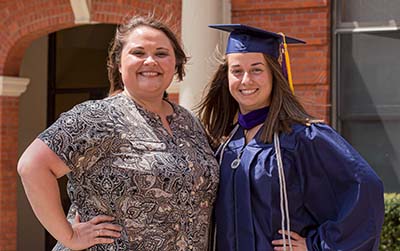 When her life was at its lowest point, a sheriff's deputy offered Allie Curdes hope for something better.
As she prepares to graduate from Trine University, she wants to offer that same hope to others.
Curdes, who completed her Bachelor of Science in criminal justice in November and will finish her Master of Science in May, has applied for a reserve officer position with the Angola City Police Department.
She previously interned for the department in the fall of 2019 and hopes to eventually get hired as a full-time officer.
"I have good personal and professional connections around Steuben County," she said. "I really like the area as a whole."
Though she grew up in Fort Wayne, Curdes became familiar with the area through her family's summer home on Fish Lake, north of Fremont.
"I know the area and I like to fish," she said, describing Angola in particular as "busy enough where stuff happens, but not too crazy."
Calming presence
Curdes said her life was normal until she was about 10, when grandmother on her father's side passed away and her father started drinking "a lot."
"It was how he coped," she said.
Unfortunately, his drinking spiraled into a battle with alcohol addiction that lasted through Curdes' high school years.
"I would wake up and he would be passed out," she recalled. "He would hit his head and there would be a pool of blood."
One day, when Curdes was 16 and her mother was in Michigan, she discovered her father passed out in the road while doing yard work.
She called 911. An ambulance and Allen County Sheriff's deputy responded, but by the time they arrived her father had regained consciousness and declined treatment.
As the deputy helped the enraged teenager get her father into the house and into bed, he told her, "You don't have to follow in his footsteps. You can carve your own path and live life to the fullest if you choose."
"I was upset and embarrassed," Curdes said. "I couldn't see myself at the time having a career and a life, but what he said stayed with me. His tone of voice calmed the situation down. He was a calming presence when everything else was chaotic."
The memory of that day is what inspired her to be a police officer.
"I want to be that voice for others: to push them forward and keep them from making life-altering decisions," she said.
Thinking critically
She chose Trine University because it was far enough from her parents' house that she felt independent, but close enough that she could go back home if needed. She also liked the size, which she described as "not super small but not super big."
She likes the emphasis Trine's criminal justice professors place on ethics, which she feels is very important due to ongoing controversies regarding law enforcement.
"It's less lecture and more conversation," she said. "Students are forced to critically think about different topics and crises such as domestic violence situations. They place you in the situation and make you think through what you would do."
She also appreciates the experience professors bring in law and law enforcement to their teaching.
"They all have well-rounded careers they can apply to each class," she said.
She has juggled full-time work as a security guard at Pokagon State Park with her classes at Trine. She said support from friends, family and boyfriend has been key in balancing her responsibilities.
"My brain is going all the time with what is coming up next, but it's more rewarding than stressful," she said. "The support keeps pushing me forward. When I have been discouraged, I've looked at the goals I have achieved, and that keeps pushing me forward."
Looking ahead
Her father has been sober since 2018, after dropping to 87 pounds and ending up in the hospital for a week after a fall.
"Over time and through therapy I have been able to forgive him," Curdes said. "We have a pretty good relationship now and it is getting better as time progresses. We are able to keep moving forward."
She hopes in her law enforcement career to work in an area such as crash reconstruction, recovery diving or narcotics. She also would like to train other officers.
"I would like to eventually retire and teach criminal justice to college students, which is why I am completing a master's degree," she said.
For her master's degree capstone project, she is designing a program where police officers would renovate subsidized housing units for minority community members. She got the idea from working for her uncle renovating apartments and performing repairs and maintenance.
"I liked seeing the changes to the apartments as we cleaned them up and fixed them," she said. "If minority community members see police officers working in their communities to better them and fix them, and everyone can see physical changes being made, then trust will begin to form."
She knows that such a program would be difficult to implement, but hopes to share her ideas with other police officers once she is hired.
"Sharing the idea is a starting place to making organizational changes," she said.
Photos: Top, inspired by an Allen County Sheriff's Department deputy who encouraged her during a low point in her life, Allie Curdes will graduate from Trine University on Saturday, May 8, with bachelor's and master's degrees in criminal justice.
At right, Jackie Delagrange, chair of the Department of Criminal Justice and director of the Master of Science in Criminal Justice program at Trine University, and Allie Curdes, who will graduate Saturday, May 8. Masks were removed for the photo only. (Photos by Kacie Galloway)
Last Updated: 05/03/2021