Trine creates more educational opportunities for BrightStar Care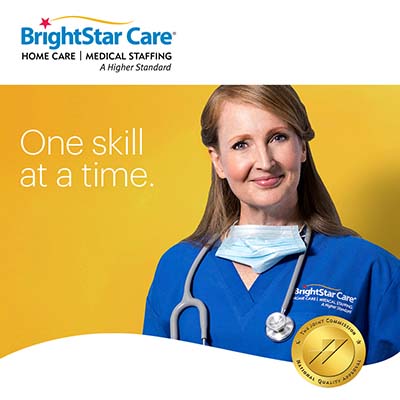 FORT WAYNE — Employees at BrightStar Care, a Fort Wayne-based company providing home health care services and medical staffing solutions, will enjoy a wider range of educational opportunities at Trine University as the result of a new agreement between the two organizations.
Josh Ames, recruiting manager for BrightStar, said, "Creating a partnership with Trine helps BrightStar employees continue their professional and educational development, which helps BrightStar provide a higher standard of home care. Because being safe at home is more important now than ever before, this partnership will help us grow our team and serve those who need us most."
"We are proud to help the home health care and other medical professionals of BrightStar Care meet their educational objectives," said Earl D. Brooks II, Ph.D., Trine University president. "The services of these healthcare heroes have become even more critical during this time of pandemic, and it is a privilege to assist them in meeting their career goals."
Through the partnership, BrightStar will receive a complimentary professional development course for leaders and access to customized courses, available both online and on-site. BrightStar workers will also be provided additional support in obtaining access to available educational grants and scholarships, reducing tuition reimbursement expenses, in turn allowing BrightStar to maximize its impact on employee education.
Additionally, BrightStar will receive added support to ensure employees who take coursework at Trine are utilizing all available academic and financial aid services. BrightStar employees who enroll in Trine University degree programs also will receive the benefits given to all Trine students. These include more than 45 courses using open education resources, eliminating textbook and materials costs. In addition, students receive a free application for enrollment and free unofficial transfer credit evaluation.
Up to 90 credit hours can be accepted toward a bachelor's degree program, including elements such as on-the-job training. This means fewer needed to complete a degree, less financial impact, and graduation in as little as one year. In addition, students are given the opportunity to earn graduate credits while working on a bachelor's degree through Trine Online's combined degree programs.
Trine will also offer BrightStar enhanced opportunities to recruit Trine students for open positions, share information regarding their available services, and access to a broader range of community activities with student organizations, athletics, and various exclusive Trine events.
BrightStar Care provides nurses, therapists, CNAs, certified home health aides and caregivers who deliver professional, compassionate care in the comfort and familiarity of home, from companionship, bathing and hygiene assistance to in-home infusions and medication management.
For more information on educational partnership opportunities with Trine University, visit trine.edu/online/partnerships.
Last Updated: 01/12/2021