Busse recognized as Trine University's Pillar of Success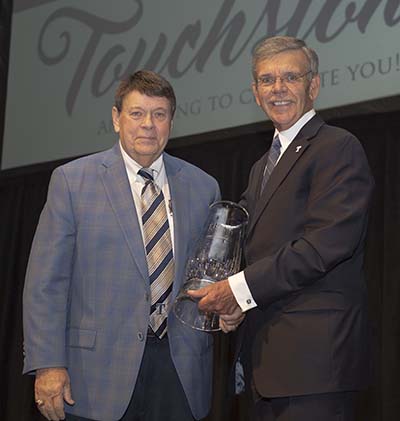 Keith Busse, who rose from modest means to co-found one of the nation's largest steel producers, was honored with Trine University's Pillar of Success Award during the university's annual Touchstone and Homecoming Celebration Dinner on Friday, Oct. 1.
Busse received the award from Earl D. Brooks II, Ph.D., Trine University president, following a video presentation featuring images of Busse throughout his lifetime.
Brooks described Busse as "a self-made maverick of great compassion, shrewd leadership, uncommon daring and community influence."
"We treasure your friendship and leadership," Brooks said. "We thank and recognize you for your contributions to your field, our region, our country, and to Trine University. We are forever grateful and appreciative for the impact that you and Steel Dynamics Inc. have made on our state and Trine University to better the experience for our students, families, alumni, employees and visitors."
"It's not very often that I'm at a loss for words, but I'm truly honored by this award," Busse said in accepting the honor.
Calling his involvement with Trine University one of the "great adventures of my life," he said, "It has truly, truly been my pleasure to serve."
Growing up in a family where both parents pieced together jobs to make ends meet, Busse earned acceptance to Purdue University's engineering program but was unable to pay for tuition. Instead, he enrolled at International Business College and earned a two-year degree in accounting, helping to pay for his schooling by pumping gas and unloading tires and batteries at a Montgomery Ward service station.
He worked in multiple accounting jobs as he married and began a family, later deciding to go back to school to further his education at Saint Francis College. He eventually completed a bachelor's degree in business from Saint Francis and a master's degree in business from Indiana University-Purdue University Fort Wayne.
He joined Charlotte, North Carolina-based Nucor in 1972, rising through the ranks to become vice president. In 1993, along with Nucor managers Mark D. Millett and Richard P. Teets Jr., he formed Steel Dynamics Inc. Together with its subsidiaries, Steel Dynamics is one of the largest, most diversified domestic steel producers and metals recyclers in the United States.
Busse retired as CEO of Steel Dynamics in December 2011, but stayed heavily involved as board chairman and co-founded or founded numerous other companies. He also served and held leadership roles in many civic organizations, including the National Kidney Foundation, Junior Achievement, the Northeast Indiana Regional Economic Development Partnership and the Regional Chamber of Commerce.
A member of the Trine University Board of Trustees since 2003, Busse chairs the Campus Planning Committee and has helped guide the capital construction and improvement plan for the institution. Among other projects and efforts, Busse and Steel Dynamics Inc. have provided significant support to the Keith E. Busse/Steel Dynamic Inc. Athletic and Recreation Center, the Thunder Ice Arena and the Steel Dynamics Inc. Center for Engineering and Computing, which is scheduled to open in fall 2022.
The Pillar of Success award recognizes individuals for their achievements and accomplishments, leadership, service, philanthropy, commitment to their community and profession, and to Trine University. The award has, in the past, honored alumni, friends, faculty, staff and members of the Board of Trustees.
Photo: Dr. Keith Busse, left, receives the Pillar of Success Award from Trine University President Earl D. Brooks II, Ph.D., during the university's annual Touchstone and Homecoming Celebration Dinner on Friday, Oct. 1. (Photo by Dean Orewiler)
Last Updated: 10/05/2021