Career Center welcomes new year with new staff, location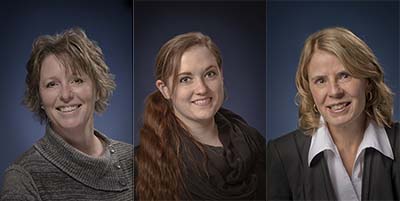 Students returning to Trine University for the spring semester will find the Career Center in a new, more convenient location, with new staff in place to help students and alumni in their career journey.
The Career Center has moved from the second floor to the first floor of the Rick L. & Vicki L. James University Center, in the area formerly occupied by the university's Health Center. The Health Center moved to Quest Hall at the beginning of the fall semester to provide additional space for a COVID-19 clinic.
"This new location will provide easy access for students and employers to engage with our Career Center team," said Jason Blume, executive director of Trine innovation 1, which oversees the Career Center.
That team recently added Melissa Lafferty, who will serve as career coach and industry liaison for the Allen School of Engineering & Computing. Lafferty brings extensive experience in manufacturing, career advising and supporting recruiting efforts in southern Michigan, including 12 years as a business services/career planner at Michigan Workforce Development Institute.
She holds certification as a business solutions professional from Michigan State University and a global career development facilitator and journey worker certified career services provider from the National Career Development Association. The latter certification was obtained through a 2,000-hour registered apprenticeship for frontline staff in the public workforce system.
Earlier in the fall semester, Lynne Koepper joined the Career Center as career coach and industry liaison for the Jannen School of Arts & Sciences, Rinker-Ross School of Health Sciences and College of Health Professions. Koepper came to Trine following six years at Purdue Fort Wayne's Career Center as data analyst, Handshake administrator and sciences liaison.
Lafferty and Koepper join Terry Johnson, who has assumed the career coach and industry liaison role for the Ketner School of Business and Franks School of Education.
"Melissa and Lynne both offer a wealth of experience that will allow them to provide valuable mentorship as they assist Trine students and alumni in their employment journeys," said Blume. "Coupled with Terry's contributions to the Career Center's long record of success, we believe this outstanding team will continue to build upon what has been accomplished, with more than 99 percent of Trine graduates employed within six months over the past seven years."
The career coach and industry liaison position at Trine University serves as the main resource for employment opportunities, collaborating with employers, academic departments, alumni and students to assist in work-study opportunities, internships, externships, co-ops and part- and full-time employment.
Photos: Top, from left, Terry Johnson, career coach and industry liaison role for the Ketner School of Business and Franks School of Education at Trine University, meets with Isa Botta, a senior majoring in biology, in the university's new Career Center location. Top right, from left: Melissa Lafferty, Lynne Koepper and Terry Johnson.
Last Updated: 01/14/2021