Trine University's Jake Garlits named to Orr Fellows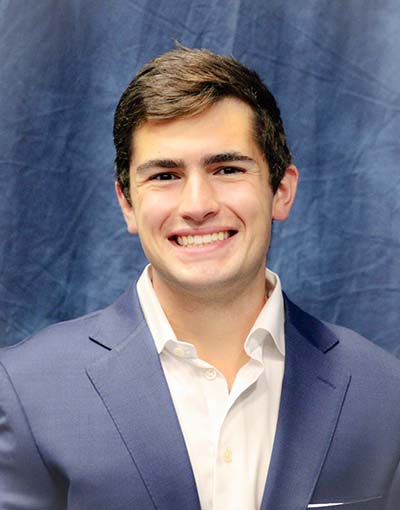 INDIANAPOLIS – Jake Garlits, a Trine University senior from Huntington, Indiana, is part of the 6 percent of top-tier college seniors selected to join Orr Fellowship this year.
Orr Fellowship, one of Indiana's most celebrated nonprofit talent programs, is a two-year post-graduate program that places high-achieving college seniors from across the Midwest in full-time, paid positions at dynamic companies and organizations in Indianapolis.
Garlits will join Orr Fellowship's 20th and largest cohort of Fellows to date. From August to October, nearly 1,300 college seniors from across the Midwest were recruited to apply for Orr. Garlits said he heard about the opportunity through Trine University's Career Center.
"It sounded like a great fit for me," he said. "I'm unusual in the fact that I am currently working on completing a computer and software engineering undergraduate degree as well as an MBA. The Orr Fellowship gave me the opportunity to work with a company in the tech industry, while also allowing me to utilize my MBA and learn business concepts from some of the top businessmen in Indianapolis."
He completed a series of virtual interviews to become one of 100 applicants to earn an invitation to Orr Fellowship's Finalist Day, held in November. Each finalist interviewed with five partner companies, with 79 students receiving job offer calls.
After graduating from Trine in May, Garlits will begin at Lev, a marketing-focused consultancy that utilizes Salesforce to implement marketing plans for other companies.
"I heard back from them the night after Finalist Day and was so excited to have secured a job," he said. "I am very excited to move to Indianapolis, as I am a huge fan of big city life. I am most excited to get to meet all the other incoming Orr Fellows and begin the next chapter of our lives together."
In addition to his position, he will participate in Orr Fellowship's programming dedicated to nurturing the entrepreneurial spirit and developing strong leadership skills. Garlits will also enter Orr Fellowship's networking communities via the program and help recruit the next cohort of Orr Fellows.
Dozens of Orr Fellows have gone on to found their own businesses, and most former Fellows have become leaders at successful companies.
"I am beyond excited to have this opportunity," he said. "I cannot express how thankful I am to everyone at Trine who helped me get to where I am today!"
About Orr Fellowship
Dedicated to matching exceptional, high-achieving college seniors to full-time, paid jobs at dynamic companies and organizations of all types and sizes in the Indianapolis area since its first cohort in 2002, Orr Fellowship's Fellows receive two years of extensive programming and networking opportunities by night as they devote themselves to their careers by day. Learn more about the Orr Fellowship at orrfellowship.org.
Last Updated: 02/22/2021