Hamblen joins Trine as Campus Safety director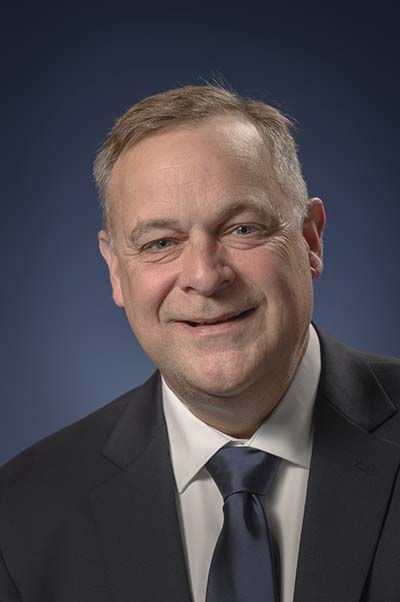 A face familiar to many in the City of Angola is now leading Campus Safety at Trine University.
Stuart Hamblen, who retired as chief of police for Angola in December and had been part of the city's police department for nearly 30 years, began as director of campus safety at Trine on Jan. 4.
In addition to his extensive police experience, Hamblen said he looks forward to providing positive leadership to Trine's Campus Safety team and bringing extensive training he has received in emergency management to his new role. He has served in leadership roles for several exercises conducted by the Indiana Department of Homeland Security Training and Preparedness Division, and received training in areas including disaster recovery in rural communities.
"Besides learning the ins and outs of day-to-day operations during the school year, I hope to bring and implement emergency management tools at the university," Hamblen said. "I want to help keep the staff and students prepared in case of natural or manmade disasters."
Hamblen joined the Angola Police Department in 1991 as a patrol officer, and was promoted to sergeant and assistant police chief before being named chief of police in 2009. Prior to joining the police department, he served for six years in the Indiana Army National Guard.
He holds a Bachelor of Science in natural resources with a minor in criminal justice from Ball State University, and has completed continuing education in criminal justice through the Indiana Law Enforcement Academy.
"Stu brings a great amount of experience to this position that will help continue to strengthen the safety and security of the Trine community," said Cisco Ortiz, dean of students at Trine. "He remains connected to the local community leaders and local public safety agencies that provide supportive services to campus operations.
"Stu will bring a positive leadership style, with his personality and experience, while continuing to develop the safety team to better serve our students and campus community. His experience in emergency and incident management also will contribute to the overall campus safety and risk management operations."
Last Updated: 01/12/2021