Innovation Challenge recognizes top business, technology ideas
A business raising show goats and a device that prevents pants tears for those with lower limb prosthetics took the top prizes at Trine University's annual Innovation Challenge, held April 15 in the T. Furth Center for Performing Arts.
Presented by the university's Trine innovation 1 and Fifth Third Bank, the annual contest provides cash prizes to top business and technology ideas. Awards are funded by a gift from Fifth Third Bank, Greater Indiana.
The $3,000 first prize in the business division went to Acacia Ranch Show Goats, presented remotely by DeKalb High School students Sydney and Matthias Hefty. The business provides high-quality, cost-effective goats for the growing number of 4-H members throughout the region seeking to show the animals.
"These goats often sell for anywhere from $1,000 to $10,000 for competitive animals," said Sydney Hefty. "However, with our business model, we have found a way to still be profitable and allow members to purchase goats for less."
Innovation Challenge judge Paul Burch, vice president for Government & Institutional Relationship Management, Commercial Bank, Fifth Third Bank, praised the team for their extensive business analysis.
"You have your numbers down; you know your cost," he said. "Very nicely done with that."
Second place in the business category, with a $1,000 prize, went to Milkweed Online, presented by Brett Tierney, a Trine University sophomore majoring in design engineering technology and concurrently completing his MBA. Tierney, of West Chicago, Illinois, developed the business concept along with his mother Christie.
Milkweed Online is a line of products developed for use in raising and releasing monarch butterflies. Tierney noted in his presentation that the U.S. Fish and Wildlife Service estimates a 90% decline in the monarch populations since the 1990s. Less than 10% of eggs laid in nature survive.
"Monarchs are beautiful and essential to our ecosystem," Tierney said.
The Milkweed Online habitat kit is specifically designed for monarch butterflies.
"This is the safest container to ensure that you can see your butterfly turn from an egg to a butterfly without accidentally hurting them," he said.
An included book by Christie Tierney, "Flutterby, My Butterfly," provides steps on how to raise monarchs.
Top prize in the technology division went to RipStop, developed by Trine University biomedical engineering seniors Colleen Bell of Unity, Ohio; Lauren Beebe of South Bend, Indiana; Olivia Coyne of Allison Park, Pennsylvania; and Devon Kelly of Dearborn Heights, Michigan.
The RipStop is designed to prevent tears in pants worn by lower limb amputees, a frequent problem due to sharp edges on prostheses and material getting tangled in prosthetic knees.
"Most companies make prosthetic accessories and engineer long pants for those with prosthetics to wear," Bell said. "However, they are very expensive and ultimately do not take care of pant entanglement and pant wear and tear."
The team tested their design with a lower limb amputee who reported no issues with the device or loss of mobility in his prosthetic joint.
"I'm amazed at what you've come up with," said judge Deb Richard, assistant professor in Trine's Ketner School of Business.
Second prize for technology was awarded to the Cooler Koozie by Trine design engineering technology students Konrad Dorsey, a junior from Manilla, Indiana; and Adrienne Rosey, a freshman from Schoolcraft, Michigan.
The product is designed for boaters who want access to their cooler while anchored at a sand bar or elsewhere, without having to climb back into their boat.
"The Cooler Koozie allows consumers to take their cooler into the water and not worry about it tipping or floating away," said Rosey. "It's more stable in the water, and can be tied to a boat."
The device also features holders for open drinks, bottle caps and snacks.
Jason Blume, executive director of Trine innovation 1, said he was impressed by the diverse but practical solutions provided to real-world problems at this year's Innovation Challenge.
"It's amazing to see high school and college students do such a great job at meeting real-world issues head-on," he said. "Any of these ideas has the potential to be successful, and I look forward to seeing them continue to develop."
Video of the Innovation Challenge is available at vimeo.com/513451184
About Fifth Third Bank
Fifth Third Bancorp is a diversified financial services company headquartered in Cincinnati, Ohio. The Company has $141 billion in assets and operates 1,254 full-service Banking Centers, including 95 Bank Mart® locations, most open seven days a week, inside select grocery stores and 2,639 ATMs in Ohio, Kentucky, Indiana, Michigan, Illinois, Florida, Tennessee, West Virginia, Pennsylvania, Missouri, Georgia and North Carolina. Fifth Third operates four main businesses: Commercial Banking, Branch Banking, Consumer Lending, and Investment Advisors. Fifth Third also has a 18.3% interest in Vantiv Holding, LLC. Fifth Third is among the largest money managers in the Midwest and, as of December 30, 2015, had $297 billion in assets under care, of which it managed $26 billion for individuals, corporations and not-for-profit organizations. Investor information and press releases can be viewed at www.53.com. Fifth Third's common stock is traded on the NASDAQ® Global Select Market under the symbol "FITB." Fifth Third Bank was established in 1858. Member FDIC.
Top photo: DeKalb High School students Matthias, left, and Sydney Hefty answer questions from the judges during the Innovation Challenge.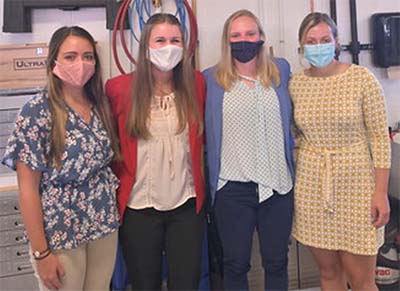 Trine University biomedical engineering seniors, from left, Lauren Beebe, Colleen Bell, Olivia Coyne and Devon Kelly won first place in the technology division of the university's Innovation Challenge for the RipStop.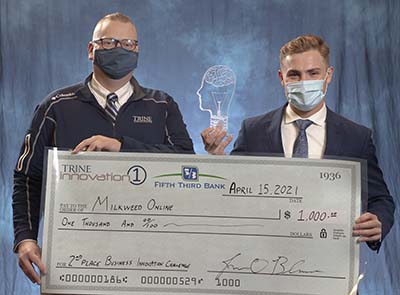 Jason Blume, executive director of Trine innovation 1, left, presents the Innovation Challenge second place award in the business category to Brett Tierney, a Trine University sophomore, for his Milkweed Online concept. (Photo by Dean Orewiler )
Last Updated: 04/16/2021