The Lettermen to present Christmas concert at Trine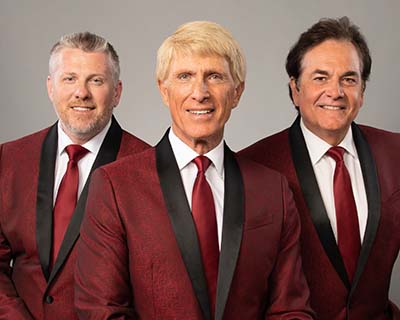 The Lettermen, originally scheduled to perform in Trine University's T. Furth Center for Performing Arts in spring 2020, will present a Christmas concert at the university on Dec. 3.
The concert will begin at 8 p.m., with doors to the Ryan Concert Hall opening at 7.
Tickets purchased for the 2020 concert, which was postponed due to the COVID-19 pandemic, will be valid for the December performance. Additional tickets, with prices ranging from $25-$45, will go on sale this summer at trineutickets.universitytickets.com.
For more than 50 years, The Lettermen have kept the meaning of harmony alive with their soft, romantic, harmonic blend of music, which is as popular with their fans today as it was in 1961 when they recorded their first hit, "The Way You Look Tonight." Soft, melodic and romantic, the song was a departure from the rock 'n' roll music of the day. The group's second single that year did even better. "When I Fall In Love," another soft, slow ballad, hit No.7, establishing The Lettermen as the most romantic singing group of a generation.
The Lettermen have more than 75 albums— numerous certified gold – and myriad hits including "When I Fall In Love," "Come Back Silly Girl," "Theme From A Summer Place," "Goin' Out Of My Head/Can't Take My Eyes Off Of You," "Put Your Head On My Shoulder," "Hurt So Bad," and "Shangri-La." The group has enjoyed international success touring Japan, The Philippines, China, Thailand, Singapore, Korea, Hong Kong, Germany, France, South America, Canada, Mexico and even Saudi Arabia.
Current members Donovan Tea, Bobby Poynton and Rob Gulack each are entertainers in their own right. Tea is now celebrating 35 years with The Lettermen, and his vocal talents have been shared with audiences around the world. Poynton, a veteran actor in television movies and theatrical productions, has more than 40 years in show business. Gulack, who joined the group last year, has been recording since 1997.
Last Updated: 04/06/2021