Trine senior selected for prestigious NSF graduate fellowship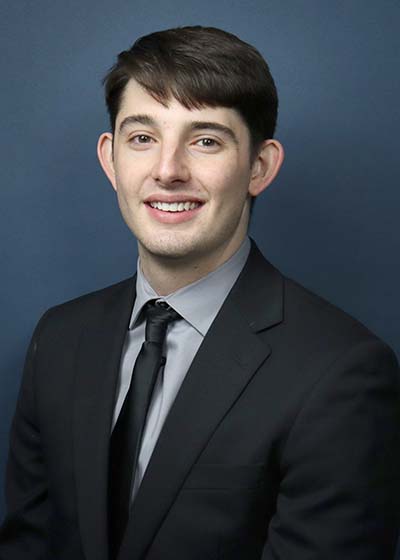 Following in the footsteps of Nobel Prize winners and other prominent scientists, a Trine University senior has been selected for the National Science Foundation Graduate Research Fellowship Program (GRFP).
Arcadia, Ohio, native Alexander Pessell will graduate in May with a degree in biomedical engineering and has been accepted into the biomedical engineering Ph.D. program at Johns Hopkins University.
"The fellowship assists me and Johns Hopkins in funding my graduate school education," Pessell said. "It also gives me the ability to round out my professional development through opportunities provided by the National Science Foundation."
The oldest STEM (science, technology, engineering and mathematics) fellowship program in the United States, the GRFP, through a competitive selection process, recognizes and supports outstanding graduate students pursuing research-based master's and doctoral degrees. Since its beginnings in 1952, the program has funded more than 60,000 fellowships — including about 2,000 this year — out of more than 500,000 applicants.
GRFP Fellows have a high level of success, both academically and professionally. Forty-two have become Nobel laureates, and more than 450 are members of the National Academy of Sciences.
Pessell said Katherine Joyner, Ph.D., who supervised him during a research experience for undergraduates (REU) at the University of Maryland during the summer of 2019, told him about the fellowship opportunity.
"She encouraged me to apply because it is a very prestigious award for STEM Ph.D. students. I really thought I had a great chance with my unique research background at Trine," he said.
He is considering two options at Johns Hopkins, both related to cell and tissue engineering.
The Searson Lab is attempting to engineer an in vitro model of the blood-brain barrier that most accurately reflects human physiology, in order to investigate diseases such as Alzheimer's and Lou Gehrig's Disease.
The Kim Lab focuses on the effects of space radiation and microgravity within different in vitro models. It also builds systemic in vitro models to study Duchenne muscular dystrophy and sexually transmitted diseases.
Pessell's long-term career goal is to work as a research and development executive at a pharmaceutical or medical device company.
"I also would love to pursue entrepreneurship opportunities in the field as they arise," he said.
In addition to his REU, Pessell said personal interaction with Trine faculty, courses such as Lab Techniques and Research Techniques, and a research project at Trine funded by an Indiana Space Grant Consortium (INSCG) Undergraduate Research Grant have equipped him with the foundational skills needed for his Ph.D. research.
"Trine's biomedical engineering department is also very adamant about refining your presentation and technical writing skills, which are very applicable to writing manuscripts and presenting in a graduate school setting," he said.
He credited biomedical engineering faculty Max Gong, Ph.D., Kinsey Kelly, Ph.D., Melanie G. Watson, Ph.D., Maria Gerschutz, Ph.D., and John Patton, Ph.D., saying he "would not be here" without them.
"They are incredible mentors and have always been very supportive in my research endeavors," he said.
Last Updated: 04/13/2021