Trine alum promoted to lieutenant colonel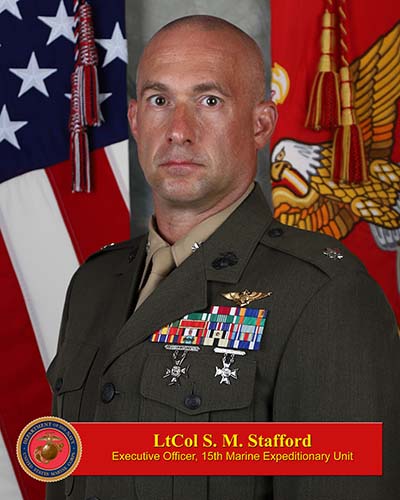 On Aug. 2, United States Marine Corps Major Scott M. Stafford, a 2001 Trine University graduate, was promoted to the rank of Lieutenant Colonel by Colonel Sean P. Dynan, Commanding Officer of the 15th Marine Expeditionary Unit (MEU). Lieutenant Colonel Stafford will serve as the 15th MEU Executive Officer. He will be second in charge of the 15th MEU and will serve directly under Colonel Dynan.
The MEU is a forward-deployed amphibious force and remains a uniquely critical and capable component of our national security demands for forward presence, crisis response, power projection, and theatre security cooperation. Since 2010, MEUs supported NATO operations in Libya, including a successful recovery of a downed F-15 pilot; supported major combat operations in Afghanistan; rescued mariners aboard the MV MAGELLAN STAR from Somali pirates; and provided humanitarian assistance and disaster relief in Haiti, Pakistan, Philippines, and Japan.
Lieutenant Colonel Stafford has been faithfully serving since he enlisted in the Air Force in 2002. While in the Air Force, he deployed in support of combat operations during Operation Iraqi Freedom II attached to the U.S. Army's 1st Battalion/ 27th Infantry Regiment of the 25th Infantry Division.
Following his enlisted service, he attended USMC Officer Candidates School and was commissioned a Second Lieutenant in March 2006. Upon graduation from The Basic School in October 2006, he reported to Naval Air Station Pensacola, Florida for initial flight training. Lieutenant Colonel Stafford was designated a Naval Aviator in January 2009 and was selected to fly the CH-53E helicopter.
As a CH-53 pilot, he completed a seven-month deployment with the 13th MEU in 2011. Seven months after his return from the 13th MEU deployment, he volunteered to deploy to Afghanistan in support of Operation Enduring Freedom 12.2 for another seven-month combat tour. Lieutenant Colonel Stafford accumulated more than 140 combat flight hours supporting combat operations in Afghanistan's Helmand Province. Lieutenant Colonel Stafford also deployed twice in support of the 31st MEU as the Marine Medium Tilt-Rotor Squadron 262 (REINFORCED) Executive Officer.
Lieutenant Colonel Stafford's personal awards include the Meritorious Service Medal (second award), Air Medal (second award), Navy and Marine Corps Commendation Medal, Army Commendation Medal, Navy and Marine Corps Achievement Medal, and a Humanitarian Service Medal.
Lieutenant Colonel Stafford holds a bachelor's degree in Business Administration from Trine University, an associate degree in Information Systems Technology from the Community College of the Air Force, and a master's degree in International Relations from New England College.
Lieutenant Colonel Stafford has been married to his wife Laura for 18 years and has two daughters, Anna (18) and Ashley (15).
Last Updated: 10/20/2021