Trine student advocates with legislators for those with headache disorders
Migraine headaches have been a constant part of Chloe Vruno's life since age 15.
"I have headaches all day, every day," the Trine University elementary education/special education major, now 21, said.
Though she has preventive and emergency medications from her neurologist, the pain still ranges from 4 to 7 on a scale of 10 each day.
"Some days are worse than others," she said. "Most days I have to push through a migraine to make it to class, but some days are so severe that I cannot make it to classes. On days I cannot make it, I use my accommodation for attendance flexibility, or now with COVID, I Zoom into class from my room."
To advocate for herself and others suffering from headache disorders, Vruno took part in the 14th annual Headache on the Hill from March 23-24.
Organized by the Alliance for Headache Disorders Advocacy, the event connects those suffering from headache disorders with members of Congress to build awareness and advocate for more research funding. Usually participants visit Capitol Hill in person, but due to the COVID-19 pandemic, this year's event was held via Zoom.
"I think this allowed many people to participate who might not have been able to if it was in person," she said. "There were many migraine patients who attended due to it being online. They could participate from the comfort of their home."
Vruno, who lives in Cedar Lake, Indiana, was able to speak to Indiana Senators Mike Braun and Todd Young as well as Representatives Frank Mrvan and Trey Hollingsworth, in addition to Congressional staff.
Headache on the Hill participants presented two requests to members of Congress this year: additional funding for research into headache diseases through the National Institutes of Health, and more VA Centers of Excellence for veterans who deal with migraine and headache diseases.
"Many veterans deal with traumatic brain injuries or concussions due to what they endure during war, and there are only 14 centers in the world for them to go to that deal specifically with migraine and headache," Vruno said. "We asked them to expand that to 28 centers around the United States."
The legislators she interacted with were "extremely attentive, engaged and excited."
"Their responses were all extremely positive," she said.
It was not Vruno's first time taking part of the event; she also was part of Headache on the Hill in 2019. She first became involved through her participation in the "Invisible Project," profiles of those suffering from headache disorders in the US Pain Foundation magazine.
"There was an application process, and I was chosen to represent Team Illinois when I lived there," she said. "Now I am a part of Team Indiana."
She encouraged those who have migraine or headache diseases to reach out for help.
"There are many people advocating for more research to better support and fund those of us who deal with these diseases," she said. "Headache on the Hill is an amazing opportunity for advocacy, and I hope that the word travels about this amazing event and that people know we are looking out for those who are struggling."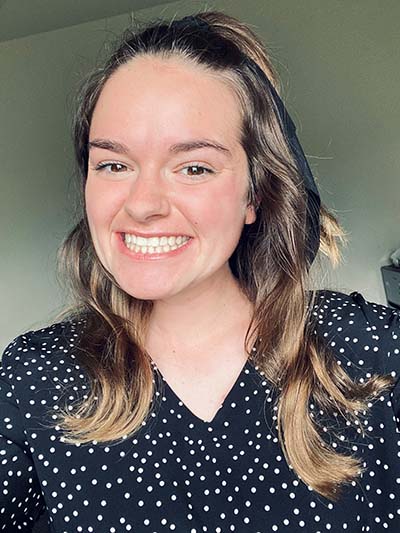 Chloe Vruno

Trine University student Chloe Vruno, top right, is pictured during a Zoom discussion for Headache on the Hill that included U.S. Rep. Trey Hollingsworth, bottom right.
Last Updated: 03/30/2021