Trine adding more than 36,000 square feet to Best Hall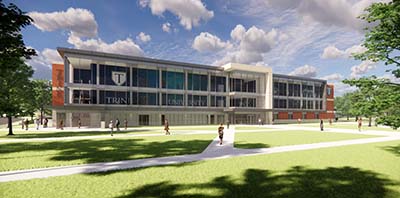 Trine University has begun an additional expansion to its Best Hall of Science to support growth in health occupations and science majors on its Angola campus.
The more-than-36,000-square-foot, three-story addition will feature about 20 offices as well as 13 classrooms, including six specialized laboratories, and collaborative learning space. Total cost of the project, including equipment, will be $16 million.
The university expects to have the new section open by Fall 2023.
The expansion will help accommodate growth in Trine's Rinker-Ross School of Health Sciences, which is housed in the building. The school includes the university's exercise science program, which launched in 2010 and now enrolls more than 200 students.
Many students within the Rinker-Ross School of Health Sciences go on to graduate programs in Trine University's College of Health Professions (CHP) in Fort Wayne, including direct admit options to Trine's Doctor of Physical Therapy and Master of Physician Assistant Studies programs. Those programs are seeing growth as well, with Trine University and Parkview Health last week announcing a 120,000-square-foot, $40 million facility near Parkview's main campus that will allow for continued growth in the CHP and its programs.
"All trends point to explosive growth in the population of older adults and in the need for trained healthcare professionals to serve them and others," said university President Earl D. Brooks II, Ph.D. "This expansion to Best Hall, coupled with our new facility supported by Parkview Health, will equip more graduates to help meet that need in this region."
"In addition, this expansion will serve overall growth on Trine University's Angola campus. Most every student comes through Best Hall for science classes during their time at Trine, and this new expansion will help us continue to provide state-of-the-art facilities for all our students as our numbers grow."
Dedicated in 1967, Best Hall of Science honors John G. Best, a 1947 Tri-State College (now Trine University) alumnus and trustee. Best served as chairman of the board for CTS Corporation, an international manufacturer of electronic equipment.
The building previously received a 26,000-square-foot addition in 2016. That $6.6 million project included seven laboratories, 12 offices and group study spaces.
Last Updated: 06/09/2022