IPT, Trine expand partnership with new educational opportunities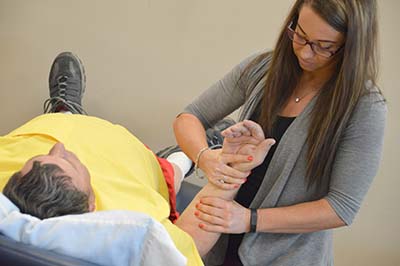 FORT WAYNE — Indiana Physical Therapy has been a strong health sciences partner for Trine University, serving as an internship and clinical site for exercise science and Doctor of Physical Therapy students and providing representatives for mock job interviews.
The partnership between the two will expand thanks to a new agreement that will provide Indiana Physical Therapy team members with professional development and educational opportunities at Trine.
"We are grateful for the continued support that Indiana Physical Therapy has provided to Trine University over the years, and are pleased and honored to assist them in providing new opportunities for their employees to learn and develop additional skills," said Earl D. Brooks II, Ph.D., Trine University president. "Trine and IPT look forward to continued growth and even more opportunities to work together."
The expanded partnership with Trine will allow Indiana Physical Therapy to add to its already impressive employee benefits package.
IPT Chief Operating Officer Jon Smith spoke on the new offerings: "At Indiana Physical Therapy, we pride ourselves in the therapists that work with us. We offer a very robust continuing education program. I look forward to watching our partnership with Trine University grow and to continue to see the personal and professional development of our team."
Indiana Physical Therapy employees and employee spouses will receive a discount on tuition for undergraduate TrineOnline courses. In addition, dependents of those who complete degrees at Trine qualify for the university's Legacy Award, which provides up to $2,000 per year toward tuition.
IPT will work to support its employees, encouraging use of 24/7 access to tutoring and Trine's many available academic and financial aid services. IPT employees also will have access to more than 45 courses using open education resources, which eliminate textbook and materials costs.
As part of the program, team members will be eligible to receive up to 90 education transfer credit hours toward a TrineOnline bachelor's degree program, including credits derived from individual life experience and unique on-the-job training experience. This program allows degree completion in shorter time frames with lower costs. In addition, those enrolled may access TrineOnline's combined degree programs, which enable students to graduate with both a bachelor's and master's degree simultaneously.
Trine also will continue to offer IPT free access to job posting and recruitment opportunities with current Trine students and alumni. IPT will also work with Trine innovation 1, which provides marketing and expansion strategies, assistance with new products, and improvements to current processes or products.
Indiana Physical Therapy is an independent therapist-owned company that provides rehabilitative services at each of its 21 locations in 14 Indiana cities. IPT is locally owned and operated.
For more information on educational partnership opportunities with Trine University, visit trine.edu/online/partnerships.
Last Updated: 06/14/2022