On the air: Trine students meet Fort Wayne radio host
FORT WAYNE — Though in the thick of baseball season along with his many other duties, Sports Rush host Brett Rump took time to meet with five Trine University communications majors.
The students, all of whom are part of the university's Trine Broadcasting Network, traveled with Andy Brown, assistant professor of communication, to Federated Media Group on April 20 to meet Rump, who, in addition to hosting the popular radio show, serves as play-by-play voice of the Fort Wayne TinCaps and Purdue Fort Wayne Mastodons.
Students even got to sit in on the first segment of The Sports Rush, where Rump engaged them during the broadcast. Later in the show, he thanked the students for making the trip.
Rump and his producer Caleb Hatch host The Sports Rush weekdays from 4-6 p.m. Rump works in sales for Federated stations in addition to his sports duties.
"I always prepare two hours for every hour of a game I will be broadcasting," Rump told the group. "My job is to give our listeners something they wouldn't know about otherwise."
In addition to meeting Rump, the Trine students — Ben Wengerd, Matt Stillman, Kyler Bills, Nick Woolley and Brooklynn Gravel — were able to visit each of the busy studios with shows underway at the Federated complex, which includes News Talk 1190 WOWO, 98.9 The Bear, 97.3 WMEE, K105 FM, 1380 The Fan and Big 92.3.
"It was a really cool opportunity to see a station up and running during live shows. We were able to meet staff from a few different stations and learn what it's like to work in those positions," said Gravel.
"I thought it was a good opportunity for us to get an inside look at radio," said Woolley. "Everyone has heard the radio, but few get to go in and see the different aspects of it and what goes on behind the scenes. Overall, it was a really cool experience and I think we were able to learn a lot that we may have not known."
Federated Media is building a new studio complex with larger studio spaces and state-of-the-art equipment. Brown said Trine Broadcasting Network students are looking forward to visiting again when the new facilities are completed.
"It was a great trip," Brown said. "I am grateful to Brett for giving our students an all-access look at a successful radio operation and especially for letting us sit in on his show. The trip gave our students some valuable insights into one of the many career paths for communication professionals."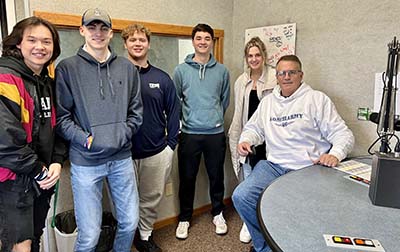 From left, Trine University communication majors Ben Wengerd, Matt Stillman, Kyler Bills, Nick Woolley and Brooklyn Gravel with Sports Rush host Brett Rump in the studios at Federated Media Group in Fort Wayne.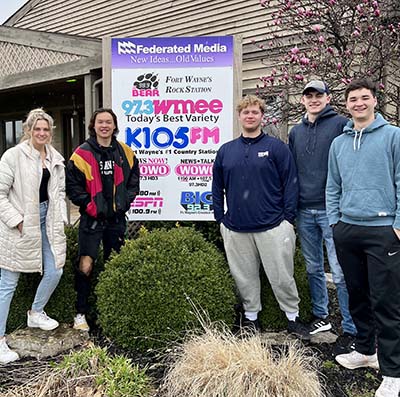 Trine University communication majors, from left, Brooklyn Gravel, Ben Wengerd, Kyler Bills, Matt Stillman and Nick Woolley outside the studios at Federated Media Group in Fort Wayne.
Last Updated: 04/22/2022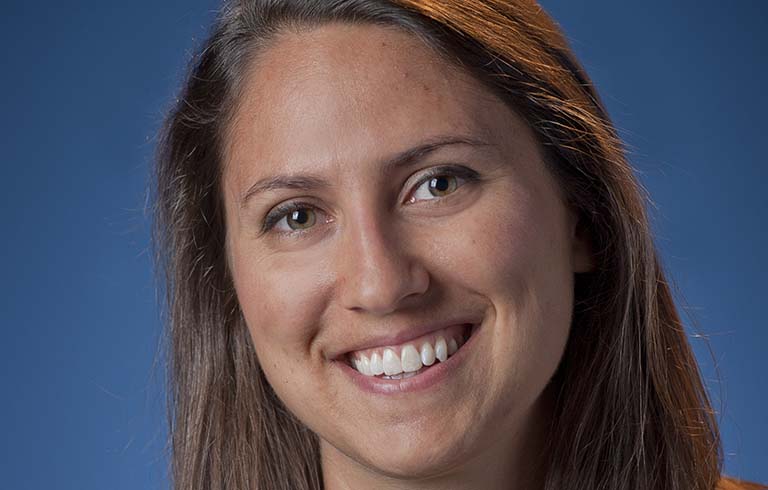 June 6, 2023
Trine University has named Lexie Staten as dean of its Rinker-Ross School of Health Sciences.
1/3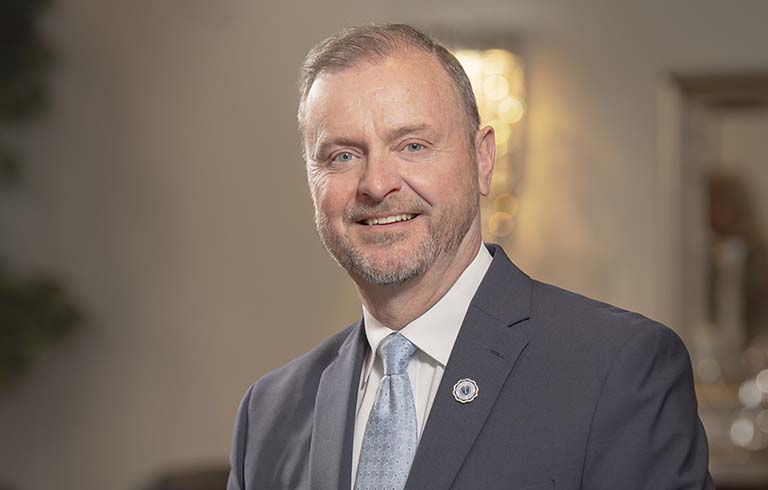 June 1, 2023
Trine University welcomes John Shannon, Ph.D., to his new role as the 17th president of the university. Dr. Shannon's presidency begins today, June 1.
2/3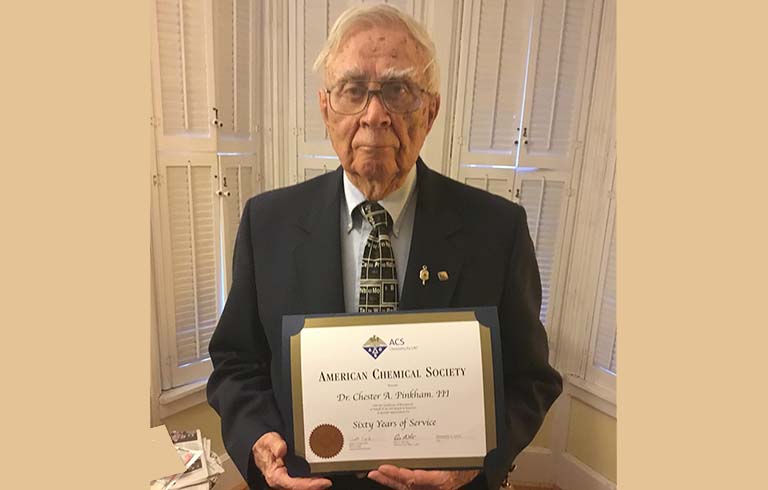 May 31, 2023
Chet Pinkham, Ph.D., professor emeritus, was honored by the Northeastern Indiana section of the American Chemical Society at its annual awards ceremony and banquet on May 24.
3/3