Trine biomedical engineering teams present projects to Parkview professionals
FORT WAYNE — Trine University biomedical engineering seniors got the opportunity this spring to present their senior design projects to not only their sponsoring teams, but other top healthcare innovation professionals from Parkview Health.
The students presented their projects to members of the Innovation team at the Parkview Mirro Center for Research and Innovation on April 13.
The Mirro Center works with companies as well as universities to accelerate the delivery of health and wellness solutions to providers and patients, providing industry connections, entrepreneurial programs and state-of-the-art facilities for research and product testing.
The Center suggested the presentation as a way for its community to see how innovation occurs through the partnership between Parkview and Trine.
"We highly value our collaboration with Trine students," said Jolynn Suko, chief innovation officer, Parkview Health. "We expose them to real world problems, and they bring new solutions and fresh eyes. Some of these projects are implemented here at Parkview, many of them lasting multiple years. It's wonderful to have students engage in pragmatic ways early in their careers."
Eight senior design groups gave five-minute presentations and took questions for five minutes from those assembled. Half of the projects presented were developed in partnership with Parkview Health.
Melanie G. Watson, Ph.D., associate professor of biomedical engineering at Trine, said the event gave her students the opportunity to showcase the work they had done throughout the school year.
"As their senior design professor, I was extremely proud and excited to see their efforts come to fruition," she said.
"This experience is unparalleled at the undergraduate level, as many students do not get to interact with healthcare professionals until they have started a career or begun graduate school," said senior Remington Trick. "It provides us with a huge advantage over all of our peers from different schools and gives us an intimate knowledge of how engineering blends with medicine in the real world."
Glowing reviews
Trick's team worked to produce a device that accurately models the human circulatory system, with the goal of helping to teach physicians how to perform catheterization procedures.
Trick said the student groups received glowing reviews for their projects.
"The Mirro Center professionals loved the prototypes developed by each of the groups and the willingness of our students to dive right in to the projects," he said.
"Everyone seemed to like each project and seemed genuinely interested with the questions that were asked," agreed Julia Zyck, part of a team working with Parkview to develop a device to test infant sleep products for safety. "It gave us a real-world opportunity to present to the team who supported the project."
Shea Kreinbrink, part of a team that developed a device to help train physicians in inserting chest tubes or needles into infants, said being able to present to the professionals at Parkview was an honor.
"They all showed amazing enthusiasm and curiosity," she said. "Not everyone gets the opportunity to present their work in front of those that can be impacted by the success of their device, especially not in front of a group that cares strongly about finding innovative ways to advance the medical field and physician training."
John Konicek, who was part of the team with Kreinbrink, said the experience was helpful because he was able to see the reactions of Parkview officials as he presented.
"They were interested, asked plenty of questions, and seemed invested to hopefully continue sponsoring the Trine biomedical engineering department for future projects," he said.
"I think this was a great experience that will prepare me for jobs in the medical industry in the future when I am proposing ideas for products. The experience has given me confidence in my ability to present in front of groups of higher-ups in companies that have the ability to offer me opportunities for work."
Biomedical engineering presentation to Mirro Center
Photos by Denise Geary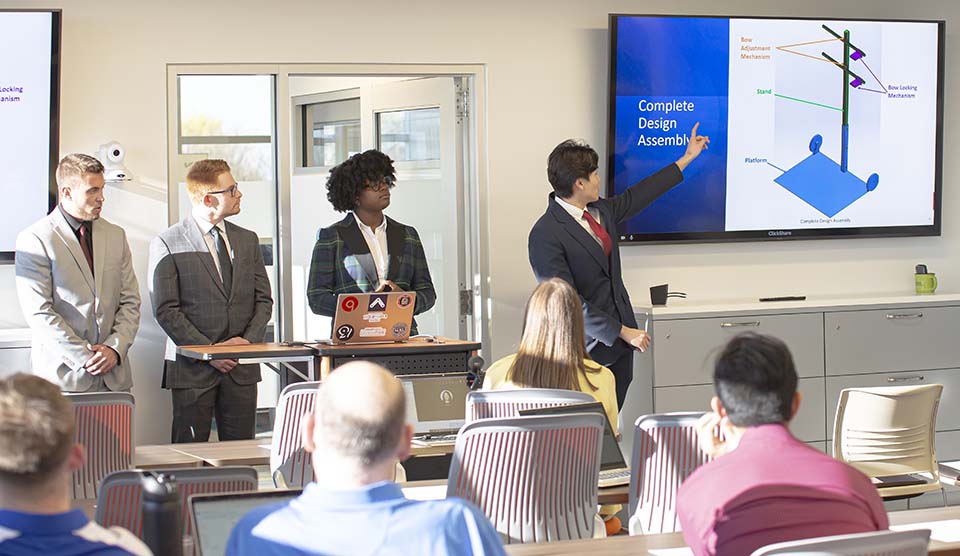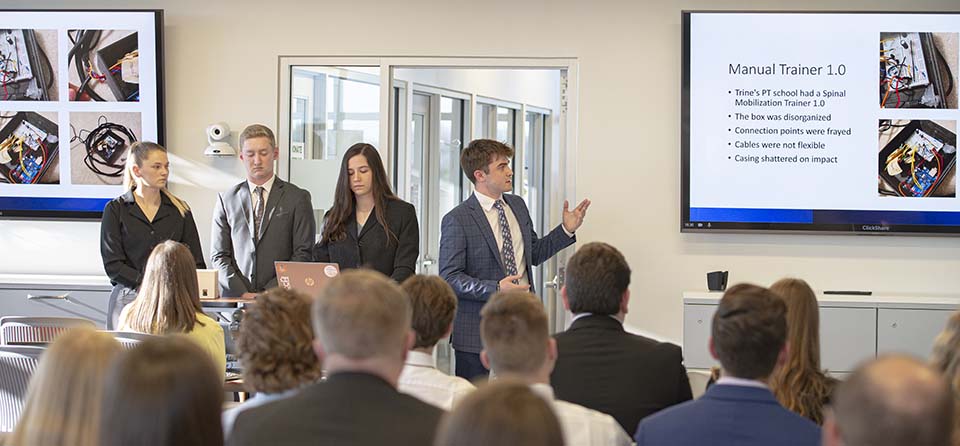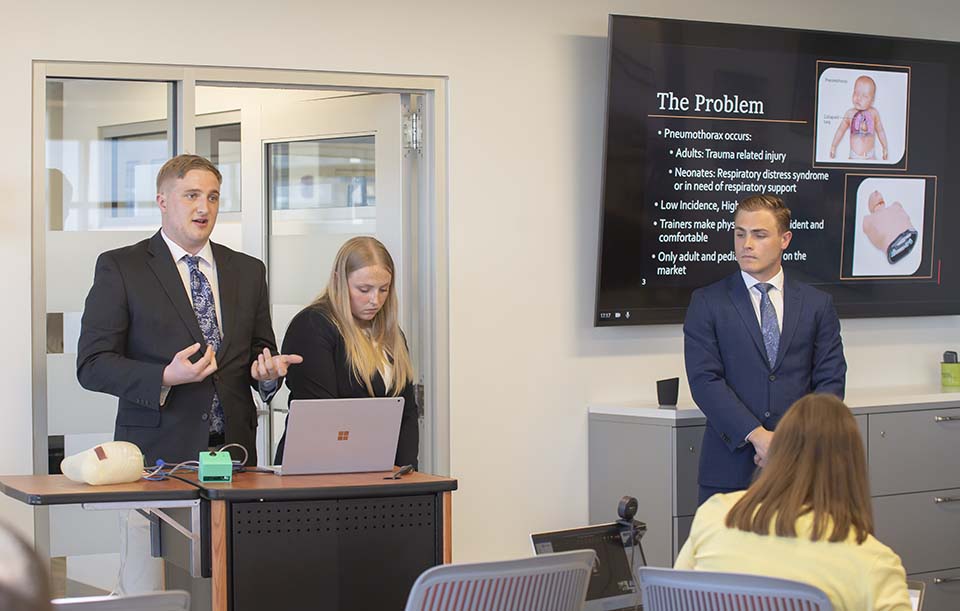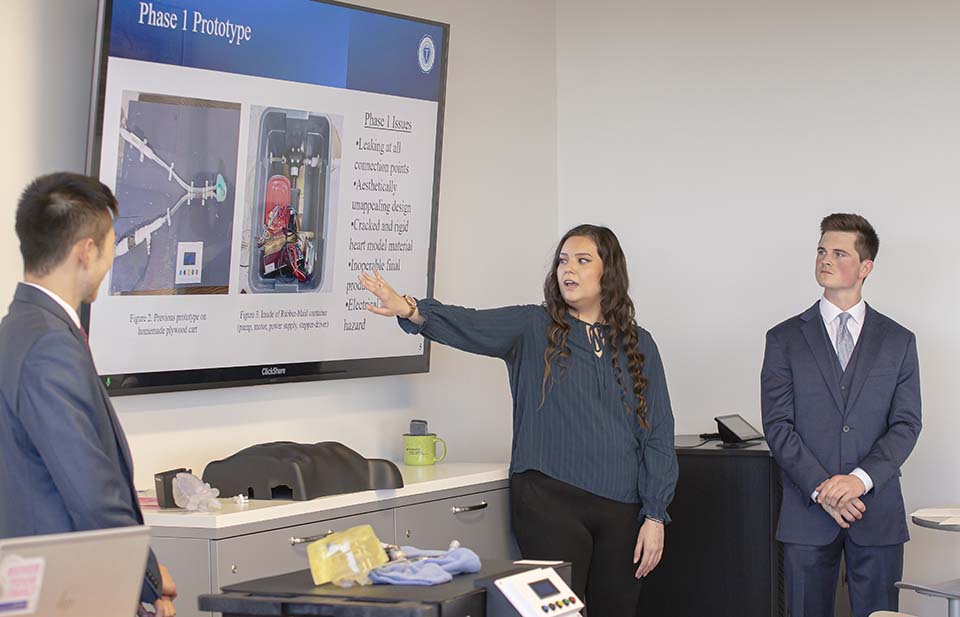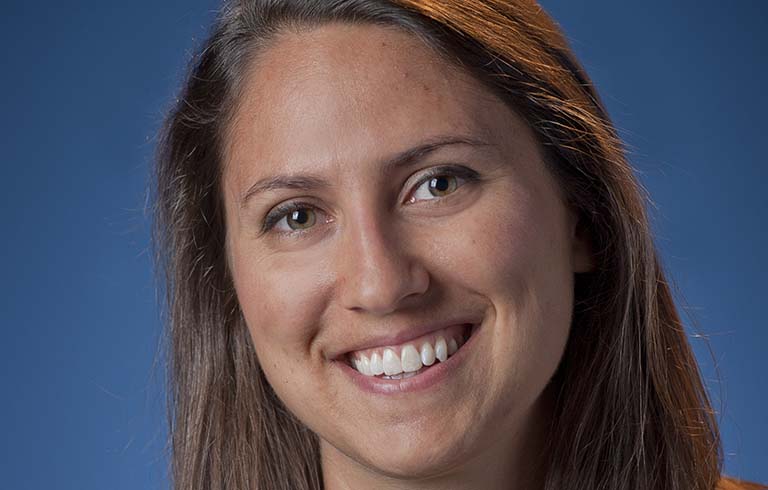 June 6, 2023
Trine University has named Lexie Staten as dean of its Rinker-Ross School of Health Sciences.
1/3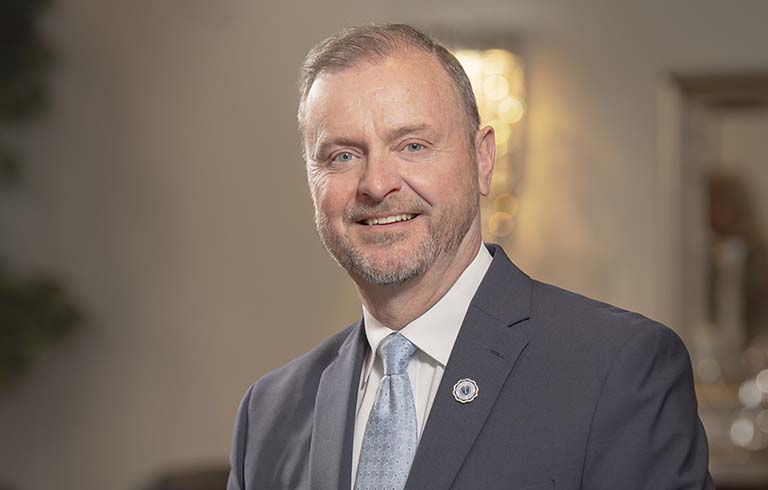 June 1, 2023
Trine University welcomes John Shannon, Ph.D., to his new role as the 17th president of the university. Dr. Shannon's presidency begins today, June 1.
2/3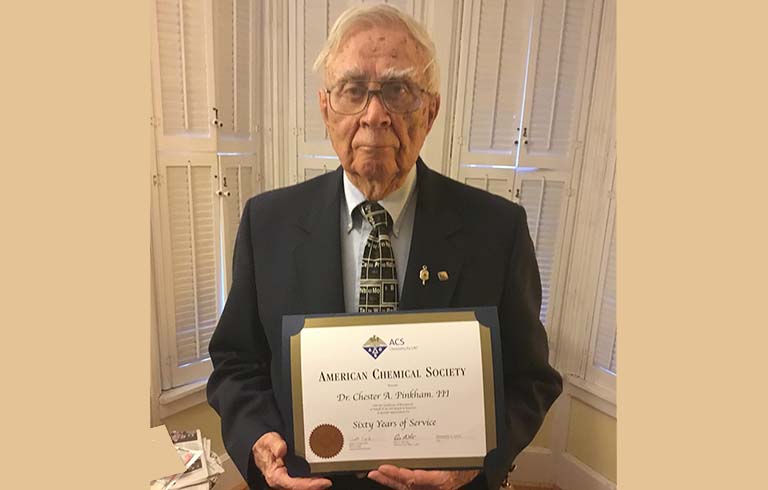 May 31, 2023
Chet Pinkham, Ph.D., professor emeritus, was honored by the Northeastern Indiana section of the American Chemical Society at its annual awards ceremony and banquet on May 24.
3/3