Nathan Grigsby
Nathan Grigsby's career has accelerated rapidly since he graduated from Trine University in 2015 — almost as rapidly as the cars he oversees manufacturing processes for.
The design engineering technology major has worked for General Motors since graduating from Trine, beginning in the college graduate development program as a tool room group leader at that company's Bedford (Indiana) Casting Operations. The next year he was promoted to third shift tool room and layout group leader, and later that year, he became a maintenance reliability engineer.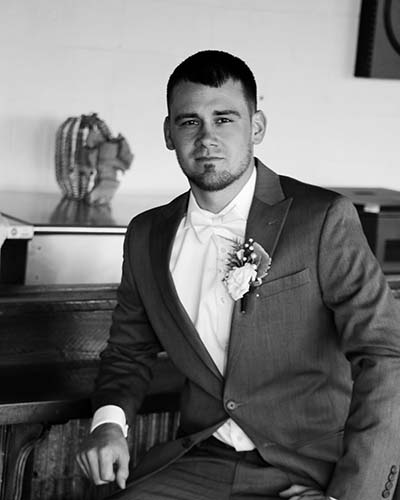 In February 2017, he transferred to GM's Corvette Assembly Plant in Bowling Green, Kentucky, to work as a production supervisor in the Performance Build Center. He led a team that hand-builds the high-performance engines for the Z06 and ZR1 corvette.
"When I first transferred to Corvette, I was extremely excited," he said. "I was very familiar with the Corvette culture and history, and realized I was extremely fortunate to become a part of it. The car is like none other built in the world, and our customer base is incredible."
The next year, he became a quality engineer, providing support for multiple high-performance engine build programs. On Oct. 15, 2020, he made another move to become quality systems lead for GM's Milford (Michigan) Proving Ground Engineering Test Labs and Garages.
Nathan was originally drawn to Trine by the small class size and opportunities to compete in athletics, as well as by what he heard from friends who attended. He decided to major in design engineering technology after Prof. Tom Trusty met with him and his parents.
"He answered multiple questions and was extremely personable," he said.
"The success I have had at GM has definitely been supported by the great education I received from Trine, especially the DET professors, who helped me not only in the engineering field but also in developing as a person."- Nathan Grigsby
Nathan also served as a work-study student in the Department of Design Engineering Technology for the entire four years he was at Trine, allowing him to spend more time with faculty working on a wide range of projects.
"This gave me one-on-one learning experiences with concepts that were covered in the classroom," he said. "I was able to get the deeper meaning behind a lot of the assignments and find out why the lessons were so important."
He continues to use skills every day that he learned in classes at Trine.
"Geometric Dimensioning & Tolerancing for part print understanding, NX for any CAD file I review, lean systems and principles, Design for Manufacture and Assembly for our manufacturing process, heat transfer and thermal dynamics, and countless others," he said. "The success I have had at GM has definitely been supported by the great education I received from Trine, especially the DET professors, who helped me not only in the engineering field but also in developing as a person."