JJ wanted to earn his degree while also being able to play the sport he loved.
"Trine University offered me the ability to pursue an education in engineering while also allowing me to continue playing baseball," he said. "I knew right away I wanted to study engineering, and many people told me I probably wouldn't be able to continue playing the sport I loved. But Trine broke the mold on that and allowed me to get the best of both worlds; it is something I will always be grateful for."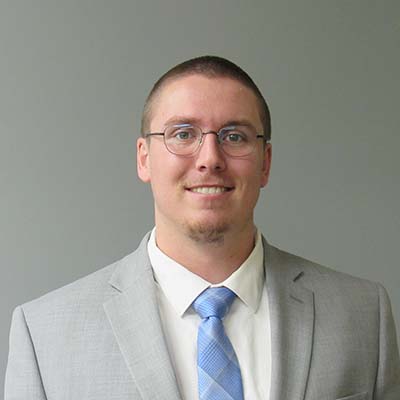 JJ actually started out on the mechanical engineering (ME) path because that is what his family did, and he knew it was a broad area of study. Though, he soon realized it wasn't for him. He had some close friends who recommended he look into civil engineering (CE), and so he did.
JJ loved to play with LEGOS as a kid, and becoming a Structural Engineer sounded neat, so that is the path that he chose.
JJ decided he didn't want to continue with structures and so he pursued Water Resources instead. "Yep, I went to the dark side," he said. "Turns out that was one of the best choices I made because I love what I get to do now."
JJ had two civil engineering related internships during his time at Trine, and while he didn't gain the "technical experience" he thought future employers would look for, he learned a lot about the industry as a whole. "I attended a Trine career fair with goal of speaking to every CE related company I could find," he said. "When I came across LFA's booth, the man I spoke with was so passionate about his field that it sparked something within me, and I knew this was a company I wanted to apply to."
"My professors at Trine held me to a high standard because they believed I could accomplish great things."
- JJ LaBounty
He currently works for Lawson-Fisher Associates P.C. (LFA) in South Bend, IN. "LFA is a Civil Engineering Consulting Firm that works within numerous branches of the industry: Water Resources, Transportation, Structural, Utility Services, Construction Inspection and Survey," he said.
JJ is currently an E.I. in the Water Resources department. While only being at LFA for 2.5 years, he has had the chance to work on numerous projects requiring various scopes. Though, he mostly focuses on municipal projects centered around conveyance and distribution systems. So far, JJ has designed storm sewer systems, sanitary sewers and water main networks.
During his time at LFA, JJ has had the opportunity to work on several different tasks throughout a project's lifespan, such as developing the contract documents and specifications, project cost estimates, permit applications, construction/progress meetings, and more.
"Starting out at LFA, after a quick orientation meeting I started assisting on a big project for the City of Mishawaka," he said. "My first task was to determine the size of the water and sanitary sewer service lines needed for a new site that was being developed. This was something I had never learned how to do during my time at Trine, and to be honest I was a bit nervous since this was a high-profile project and it wasn't even lunch time on my first day. But it turned out to be something I really enjoyed, and before I knew it, I carved out a little niche for myself within the realm of potable water.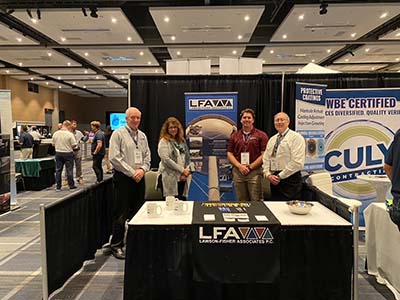 JJ enjoys variety and learning in the workplace, and so far he has received a lot of it! He said that no two projects are ever the same, which allows him to be a problem solver and provide solutions when needed. Whether it's the design, project timeline, budget, site constraints, or something else, there is always a different puzzle to solve.
"Trine did an excellent job at reinforcing the importance of time management," he said. " I was an engineering student, an athlete, a member of Greek life, and I had a work study job. Trine offers you all the tools you could need to do just that.