Kaylie Lumbert
Kaylie Lumbert decided to be an education major because she wants every child she meets to feel important, safe and empowered, so they feel they can do anything they put their mind to.
The 2019 elementary education graduate wants to be the person who believes in her students.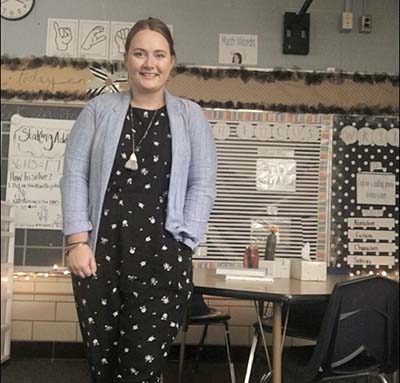 "I chose education to help every kid that feels like they were nothing, feel like they are something," she said.
She teaches all subjects to a diverse student body as a fourth-grade teacher at Timothy L Johnson Academy in Fort Wayne, Indiana. A large majority are English-language learner students.
Kaylie chose Trine because she fell in love with the elementary education department and the people at Trine.
"I remember telling my mom after the first visit, 'This is where I belong,' " she recalled. "Dr. Tony Kline also made a huge impression on me during my visit. Listening to him talk about the education department allowed me to truly feel how passionate he is about teaching, and it made me realize how much I wanted to learn from someone who cared so much."
She thanks Trine for extensive hours of classroom experience as a student, allowing her to feel very prepared entering a classroom as a first-year teacher. The Franks School of Education provides its students classroom experience starting their very first year.
As a student at Trine, she learned how to be an effective teacher.
"I learned to look at each of my scholars' background and experience and teach them based on what they need," she said. "We learned ways to effectively teach with technology and how to use it as a tool to help out students be successful 21st century learners."
"A teacher's words and actions matter and truly have the ability to make a difference."- Kaylie Lumbert
Kaylie is teaching hybrid-style, with some students learning virtually, due to the COVID-19 pandemic. Although it's been a learning curve, she felt prepared going into this school year thanks to the Education Media Technology class she took at Trine.
"I utilize the skills I learned in that class every day and apply them to the curriculum I teach my scholars, which largely focuses on math, reading and STEM skills," she said.
The thing she enjoys most about teaching is watching her scholars grow.
"I tell my scholars every day, 'It's not about being perfect. It is about growing from your mistakes,' " she said.
She creates new memories almost every day, and shared her favorite. When Kaylie handed one of her scholars their report card, they started crying.
She asked what was wrong and they said, "I never thought this would be possible." That student received all A's that semester and said, "last year I got really bad grades." She asked them what changed, and they replied, "Well, I think it's because you make me feel like I can do anything."
"That moment was something I will hold on to for the rest of my career. It proves that a teacher's words and actions matter and truly have the ability to make a difference."