A high school track injury introduced Katelyn O'Daniel to what became her life's calling.
Katelyn came to Trine University for her graduate education, earning a doctorate in physical therapy in 2017. She now works as a physical therapist at Lutheran Hospital.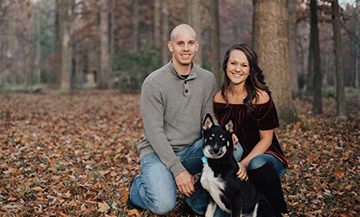 When Katelyn's knee injury occurred her father, a podiatrist, reached out to doctors, surgeons and physicians to determine the best treatment.
"Nothing worked until I was introduced to a physical therapist named Dr. Dave. He was my first exposure to the world of physical therapy and the only one who was able to teach me how to own my injury and prevent it from coming back," she said.
She serves a variety of patients in the neurology and trauma departments at Lutheran Hospital. "I see patients who range from motor vehicle accidents, traumatic falls and brain injuries, to strokes and spinal cord injuries," said Katelyn.
Katelyn has been able to greatly improve the lives of those she treats.
"I have treated a patient who entered the rehabilitation hospital unable to walk, talk or initiate movement. Within the first week of therapy, the patient was walking with assistance from three people and an upright walker. Four weeks later, he was discharged from inpatient rehab and walking independently into outpatient therapy," said Katelyn.
She added that Trine prepared her well for her current work.
"Trine University's hands-on clinical experiences and open-door policies created a family environment of successful working and learning," she said.