Rebecca first visited Trine University through a lacrosse recruitment.
"After a scheduled visit where I toured campus, met professors in my department, and discussed the opportunities presented to students, it was clear that my academic and athletic goals would be met at Trine," she said. "The small size of the classes and the personable and accessible university staff make the learning environment very approachable. After a few years of working, I gained interest in more education, specifically in the business and finance weaknesses I see in myself when project managing or supervising. Trine Online's Masters of Science in Engineering Management seemed like the perfect fit for accessibility and success of studying while continuing my full-time career, coaching, and social life."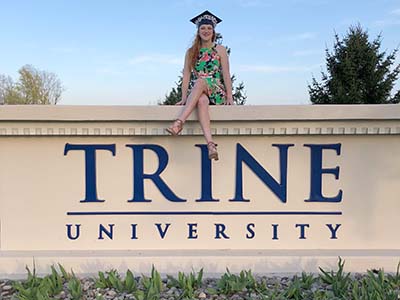 Rebecca studied civil engineering because she was interested in environmental studies, specifically the application of science, technology, engineering, and mathematics to the environment, which have always been a passion through her schooling. By pursuing civil engineering, she was able to keep her areas of study open, therefore she could choose classes and projects that best suit her interests as she grew through undergraduate studies and internships.
Rebecca had two summer internships for a private consulting firm in Michigan where she completed countywide stormwater, asset management, and waste water treatment grant fieldwork including database integration. She also interned for the Michigan Department of Environment, Great Lakes, and Energy where she mainly worked on the Line 5 Crude Oil Pipeline Alternative Analysis Report in addition to environmental technical fieldwork and public information and outreach.
Rebecca is a Project Engineer for the City of South Bend, Department of Public Works, Division Engineering. "My daily responsibilities include preparing and reviewing plans, specifications and cost estimates for engineering projects, preparing and reviewing reports, studies, analytical data, performing calculations relating to engineering problems, performing engineering surveys, inspecting construction work, coordinating with consulting engineers, contractors, and residents," she said. "Project experience stems from capital improvement projects including but not limited to sewer, municipal separate storm sewer systems coordination, water treatment facilities and distribution, street improvements, public works facilities and parks, and building structures."
Her current work allows her to contribute and learn from a large variety municipal engineering operations and capital infrastructure projects. "My position has allowed me to pursue specific fields of interest but avoid the limitation of technical experience," she said. "In addition to benefiting from a sharp learning curve, the ability to work with residents, contractors, consultants, local municipal and state administration have greatly connected my two passions of working with people and working for the operational success of the environment."
"Trine prepared me by challenging me in the classroom to work closely with others yet thinking for myself through varying assignments such as visual modeling, group discussions, and verbal and technical reporting."
- Rebecca Plantz
"Opportunities in the classroom allowed all students to learn and play to their strengths, but the responsibility of identifying those strengths were left to the student," she said. "Coursework application clearly transfers technical experience but clubs, honors societies, senior design projects, work-study positions, volunteering, networking, and being a student athlete allowed me to apply my studies and communicative growth to a functional, active environment similar to my current fast-paced position."