Mark Wilson is headed toward a career in occupational therapy thanks to the guidance he received as a Trine University student.
"I really love helping other people strive to be better," he said.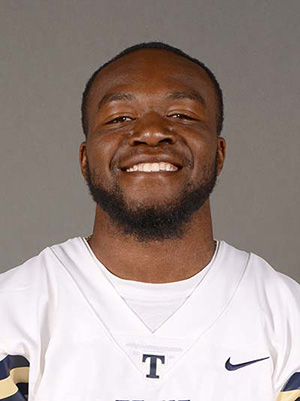 Mark started at Trine as an electrical engineering major, but after learning more about the field decided he wanted something that allowed him to work more with people. He switched to a criminal justice major with a minor in psychology and thought of going into forensic psychology, but a class with Kim Wright, instructor in the Department of Criminal Justice, Psychology & Social Sciences, helped him find a different direction.
"Prof. Wright had a friend who came to us and talked about applied behavior analysis (ABA) therapy," Mark said. "I really liked how in ABA therapy they were helping kids, and then from ABA therapy I ended up going to occupational therapy."
He picked occupational therapy because its emphasis on core and motor skills fit his skill set as an athlete. A standout football player at Trine, Mark broke the school and MIAA Conference record for most yards rushing in his first start during his sophomore year.
"No one saw it coming," he said. "That was a very exciting day."
Wright's class and guidance have helped him more than the professor will ever know, he said. He also credits John Milliken, assistant vice president for academic services, and Deborah McHenry, executive director for student success and retention, for having a positive impact during his time at Trine.
"Without those two I wouldn't be in the position I'm in right now," he said.