BA in English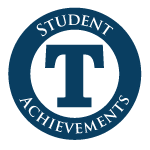 Do you love to read and write? Are you unsure how to take that love and make it a career? The Bachelor of Arts with a major in English program is here to help. Practical, hands-on courses teach students to do the kind of writing businesses need: effective websites, well-designed technical documents, convincing proposals, and more. More traditional literature courses provide students with excellent training for graduate school and with the skills of close reading, analysis, and argumentation that are essential in a world dominated by electronic text.
The Experience
This isn't your high school English class. In the English program, you take solid theoretical preparation and learn how to use it in hands-on situations.
In literature and creative writing courses, students will read intensely and discuss literature at a deep, analytical level. Those skills are then applied across courses in poetry, fiction, drama, film, video games, and graphic novels to develop a portfolio of original work that will make them competitive for graduate school.
While taking coursework in English, students practice what they learn in class and by working for Trine's literary journal, Inscriptions, writing for the department, and promoting departmental events like the Humanities SymposiaOpens in new window and Overlooked Film FestivalOpens in new window. Students interested in graduate study or teaching can also work in the university's Writing Center tutoring fellow students.
The Results
English majors lead, succeed, and thrive in their careers. Recent studies have shown that humanities majors earn as much or more over their careers as science, technology, engineering and math majors, mostly because humanities majors go to graduate school in greater numbers. This program specifically prepares you for that graduate school path.