BS in Exercise Science
Bachelor of Science in exercise science degree has an emphasis on helping others with injury, illness or to optimize health. Many of the students are interested in studying nutrition, health, wellness and human performance. Career paths include sports performance, pre-athletic training, and pre-physical therapy as an Exercise Science major. Students interested in Athletic Training and Physical Therapy should keep in mind that those fields will require a graduate degree.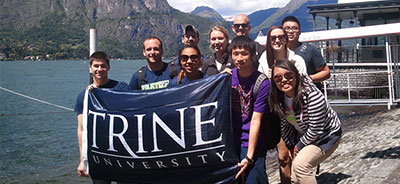 The Experience
The exercise science program has unique features including a global health study abroad trip, undergraduate capstone projects and internship placement on a national scale. Trine's affiliation with the American College of Sports Medicine and the Health Science Student Association further emphasizes professional connection with conference attendance and engagement with professionals in the field.
Each student will become immersed in projects in the community including "Therapeutic Twinges Water Program" or "Active Science" helping students apply exercise technology to improve mobility and physical activity. Internships include Chula Vista, Ca at the Olympic Training Center, Indiana Physical Therapy Centers, and AWP Athletes with Purpose in Sports Performance helping with the NFL Combine Training Program for top college draft picks.
The Results
The exercise science program delivers results. Graduate placement in graduate school or careers is 99.7 percent*. The points of pride are having graduates succeed in physical therapy, athletic training, and sports performance careers. Salaries range from $45,000 to $65,000. Careers in the health-related field are on the rise. This is a growth segment for the next decade due to the increase in the senior population and life expectancy on the rise.
*Based on 2018 Trine University Graduation Class Knowledge Rate of 83.4%, 308 of 368 main campus undergraduates responding. Compared to 2017 Graduation Class National Knowledge Rate of 64.5% from 549,664 total recorded.
Center for Sports Studies
The Bachelor of Science in exercise science program is part of Trine University's Center for Sports Studies.