BSBA Marketing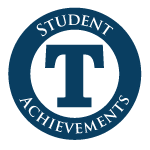 Marketing encompasses the functions of creating and satisfying consumers' desires. The work of professional marketers touch all aspects of our lives — whether it's marketing's involvement in developing new products, creating advertising that informs and moves consumers, or managing data collected through the use of the internet. The Bachelor of Science in business administration with a major in marketing from Trine University prepares students for successful careers in this dynamic field. Students graduate with a solid theoretical and practical understanding of the marketing concepts driving today's most successful companies.
The Experience
A student who majors in marketing will discover career opportunities in the fields of:

sales management
advertising
marketing research
retail management
brand and product management
merchandising
marketing management
Since creativity and communication skills are vital to a successful career in marketing, Trine students interact regularly with marketing professionals in-class and through required internships. Trine's marketing degree offers a wide spectrum of classes, so once you decide which career path you want to focus on, we will tailor your schedule to fit that area of expertise.
Points of Pride
Recent Trine marketing graduates are impacting companies in sports marketing, consumer goods, business to business markets, and business analytics. Students graduate with the knowledge, technical skills and communication abilities sought-after by today's top marketing organizations. Students work closely with our faculty, alumni and career services staff to secure positions in their chosen specialization and industry. Graduates of the program have enjoyed a job placement rate of nearly 100 percent!
Prepare for a career in advertising, sales, digital media, services marketing or retail management
Develop the knowledge, analytical and communication skills required for a dynamic career in marketing
Our faculty, mentors, and career advisors help students understand the diverse career opportunities available to marketing graduates
Our modular curriculum allows students to customize their degree plan to fit a wide variety of unique personal and career interests
Students develop leadership skills through coursework and our unique Fellows program that will accelerate their careers long after graduation
Trine Student Marketing Association ("TSMA")
The Trine Student Marketing Association is designed to provide students with additional opportunities to work with organizations in the local community, hear from industry experts and to utilize skills learned in the classroom. The organization is not limited to marketing majors; it is useful to those interested in exploring creative ways to position other organizations across campus, community establishments, and individuals for the betterment of these entities. TSMA is a great addition to student resumes and as well as a tool that can be helpful in finding internships and job opportunities.