Trine celebrates 129th commencement on May 3
ANGOLA, Ind. – Visitors packed Trine University's Hershey Hall on Saturday when nearly 400 students received their diplomas during the university's 129th commencement ceremony. In all, 500 students earned degrees this year.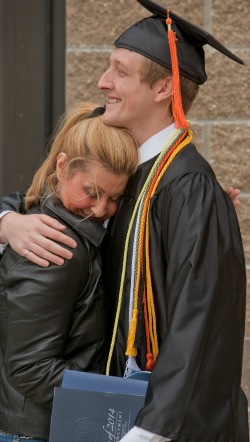 Jeffrey Saturday, retired Indianapolis Colts center and ESPN analyst, delivered the keynote address while Lee Greenwood, country singer and Grammy winner, sang the national anthem and his signature hit, "God Bless the USA."
Commencement came on the heels of a private concert by Lee Greenwood on Friday night to celebrate the opening of the T. Furth Center for Performing Arts. That new building was dedicated Friday morning, giving visitors the first look at the renovated structure. During the dedication, Trine paid tribute to the donors who made it possible to complete the $7.8 million renovation and addition of the former First Christian Church.
During commencement, Saturday encouraged graduates to remember "you work to live, you don't live to work." He also offered four keys to success: set effective goals, use teamwork, survive storms and have ambition with wisdom.
Set effective goals -- "Know your goal," Saturday said, and "evaluate yourself often."
Use teamwork -- With teamwork, "know your role and what you have to do," he said. "At the moment that it matters most, defer to the betterment of the team or others.
Survive storms -- "If you're not in a storm at some point in your life ... you are not living," Saturday said. Tony Dungy, coach of the Super Bowl champions Indianapolis Colts, referred to challenges as storms, he explained. At some point, life is not going to work out exactly as planned. That's when people should "rely on what you have that got you there" to get you through the storm. "Wherever you are in your life, just hold on, take courage and survive those storms."
Ambition with wisdom -- Don't get caught up in racing through life, he said when telling grads to use ambition with wisdom. "Trust that opportunity will present itself ... never be motivated by fear." He encouraged graduates to remember the keys as they embark on a new journey and are faced with making many decisions.
Honorary degrees conferred
Before Saturday spoke, he was presented with an honorary Doctor of Humane Letters by Earl D. Brooks II, Ph.D., Trine president.
Greenwood received an honorary Doctor of Arts. Greenwood performed an a cappella version of the "Star Spangled Banner" at the start of the ceremony and closed the event with "God Bless the USA." Each time he performed, the audience reacted with applause. Many in the audience sang along when he performed his well-known song.
Student speaker
Benjamin H. Clark, winner of the Robert B. Stewart Award, spoke in behalf of the class of 2014. He quipped that when he was asked to report to the Office of Academic Affairs, he thought he must have done something wrong and was in trouble. John Shannon, Ph.D., vice president of academic affairs, had asked Clark to stop in so he could give him the news about the Stewart Award.
At first, Clark was relieved that he was asked to speak, and then he realized that he would be speaking during commencement.
Clark said he looked around campus and his speech was inspired by Trine's slogan of It's A Trine Thing.
Friends and family, learning without limits and be a part of something greater are each a part of It's A Trine Thing, he said.
"People said there would be friendships forever, a lifetime," and they were right, Clark said. The family part is that families support their students.
Learning without limits is evident with great learning experiences in and out of the classroom, he said.
Be a part of something greater means "we need to make sure our decisions help the greater good" whether in athletics, Greek life or other organizations, Clark continued.
"I am the person that I have become today because of my experience here," he said.