Danner joins Trine as director of student leadership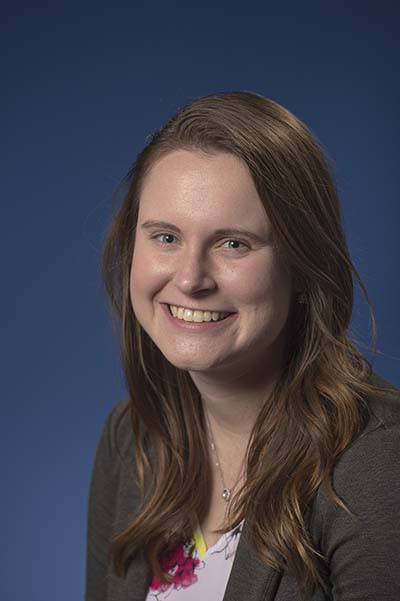 Clare Danner, a 2019 Trine University alumna, has been named the university's new director of student leadership.
Part of the Department of Student Success and Engagement, the director of student leadership is responsible for fostering essential social relationships, cultivating community and developing leadership skills through involvement with Trine Student Government, student organizations and service opportunities in the Trine community.
"I have always had a creative side and enjoy event planning, and there is a lot of that in this role," said Danner. "I am an extroverted, social person, so being able to work with people every day and serve them to the best of my ability makes this a good fit for me.
"Friends and family describe me as positive, enthusiastic, and – most of all – passionate about Trine University. I have an exorbitant amount of pride for Trine University, from its excellent academic programs, to its talented faculty and staff, to the various leadership and service opportunities provided to all students. Serving the institution that built me into the communicator, social servant and person I am today is my honor."
Danner had worked as an associate underwriter at MedPro Group in Fort Wayne following graduation. She previously had worked as a marketing intern at MedPro.
While a student at Trine, Danner, an English and communication major, served as a resident assistant, editor in chief for the Humanities and Communication Media team, and was an intern in University Marketing and Communications. She was president of the Theta Phi Alpha sorority and vice president of the National Society for Leadership and Success, and was a member of the women's soccer team and Order of Omega Greek Honor Society.
"Clare's organizational and communication skills make her the perfect fit for this position," said John Milliken, J.D., assistant vice president for student success and engagement. "Additionally, her love for her alma mater and her deep desire to return to Trine and serve our students makes her an exciting addition to our staff."
Her responsibilities will include planning, implementing and coordinating all orientation programming, including hiring, training and supervising student leaders. She also will organize Trine's Week of Welcome, move-in and check-in, and Month of Service, as well as ongoing service initiatives.
"I hope to continue the great work that has been done," she said. "I hope to execute existing programs and initiatives very well and find and implement improvements as I go along."
"Clare brings tremendous upside to our Student Success and Engagement team as she strives to maximize her undergraduate experiences within the professional environment," said Jeremy Howard, director of student engagement. "Her passion for serving others and her extensive understanding of Greek Life and student organizational management will no doubt strengthen our student body and our institution."