Far beyond the gridiron: Sellbom came to Tri-State for football, went on to acclaimed psychology career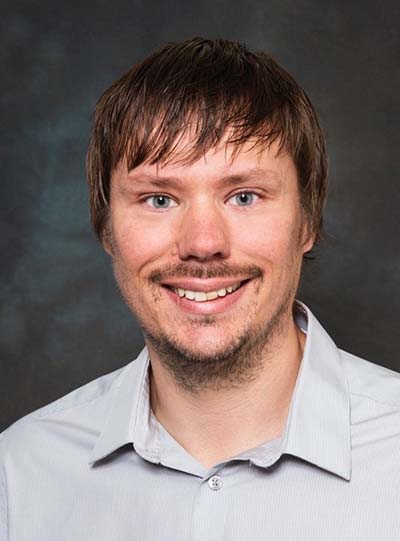 Martin Sellbom, Ph.D., is a renowned clinical psychologist today, but that wasn't what he had in mind when he came from Sweden to what was then Tri-State University.
As he completed military service in his home country, he was unsure what to do next with his life. He had been playing American football for several years, which he said was quite popular in his home country, and wondered how he would fare at the college level.
"At the time, Tri-State had a new football team, which was entering its second year," he said. "Coach Dale Carlson, who founded the program, gave me a chance to walk on."
To be part of the team, Sellbom had to choose a degree program. He decided on psychology.
"I had taken a high school course and it seemed interesting," he said. "It was either that or chemistry. I had done quite well in chemistry in high school, but Tri-State only had chemical engineering, and that seemed like too much work."
At the time, Tri-State had a strong community of Swedish students.
"The soccer team had several Swedish players. Along with another person from Sweden (kicker Per-Arne Forsman), I was the first to join the football team, but several others from Sweden followed in subsequent years," he said. "It was so great experiencing a new culture and making new friendships, some of which have lasted to this day."
His American football career was sidelined as injuries took their toll, so he eventually joined the track and field team.
"Athletics instill a lot of great values regarding self-discipline and hard work that I have been able to translate throughout my career," he said.
Growing interest in psychology specialties
As he got into his major, Mike Blaz, Ph.D., today a professor in Trine University's Department of Psychology and Social Sciences, piqued his interest in multiple areas of psychology. Sellbom later added criminal justice as a second major due to an interest in forensic psychology, taught by Duane Dobbert, Ph.D., director of Tri-State's criminal justice program at the time.
Finding that most U.S. states require a doctoral degree to be a licensed psychologist, Sellbom applied to multiple Ph.D. programs after graduating from Tri-State in 2000. He eventually was accepted into Ball State University's master's in clinical psychology, which gave him the research and clinical experience to get accepted into multiple Ph.D. programs.
He chose to attend Kent State University under the mentorship of Prof. Yossef Ben-Porath. As he began the program, he found he had a passion for research and teaching, and decided to focus on academics instead of forensic psychology practice.
He completed his Ph.D. and a post-doctoral fellowship, and accepted a position as an assistant professor at the University of Alabama in Tuscaloosa.
"This worked out well given my huge interest in football," he said.
He taught in Alabama for four years and, deciding he needed a change, moved to the Australian National University in Canberra, Australia. He began his current position as a professor in clinical psychology at the University of Otago in Dunedin, New Zealand, 5-1/2 years ago.
Psychopathy and personality disorders
In addition to his full-time academic work, he continues to practice as a clinical psychologist, evaluating individuals in the criminal justice system.
"I have now done so across three different countries," he said.
His work within the criminal justice system spurred his current research interest in personality disorders, particularly psychopathy, a disorder marked by traits including callousness, lack of remorse and empathy, manipulativeness and impulsivity.
"Psychopathy is associated with future violence and other reoffending behaviors, so given my interests in forensic and clinical psychology, it was a good topic for me to pursue," he said. "Over the past two decades, I have come to realize, along with many other colleagues, that personality disorders in general, including psychopathy, are not well-defined scientifically and new diagnostic models are needed. So, my interests moved to personality disorders and how to best conceptualize and assess them more generally."
He said his research has influenced how the field conceptualizes and assesses personality disorders. He is one of the world's leading researchers on one psychological test, the Minnesota Multiphasic Personality Inventory (MMPI).
The goal of his current work is to help diagnostic manuals, especially the Diagnostic and Statistical Manual for Mental Disorders, move away from unscientific diagnostic categories to a system better aligned with science, allowing patients better care.
Though Sellbom has received many accolades throughout his career, he said he is most proud of an award he received from the University of Alabama in 2013 for mentoring graduate students.
"I love mentoring students, especially research students. Every Ph.D. and Master student whom I have graduated is a highlight," he said. "Because academia is my true passion, I am especially proud to have mentored some of my Ph.D.s to take up academic positions themselves."
Though Tri-State did not even have a psychology department during his time here, he said the university still offered excellent instruction that provided an outstanding foundation for his future life and career.
"All the instructors were excellent, especially Mike Blaz, who taught the majority of my psychology classes," he said. "I know Dr. Blaz receives lots of accolades, and he deserves them! He is truly an outstanding teacher and someone who has inspired me to be the best teacher I can be. I was able to leave Tri-State with a great foundation in psychological science."
Last Updated: 06/17/2021