Trine team takes top place at AIAA regional conference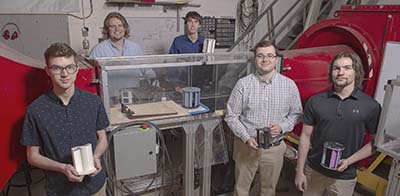 WEST LAFAYETTE, Ind. — A Trine University senior design team took first place with a paper they presented at the American Institute of Aeronautics and Astronautics (AIAA) Region III Student Conference, held March 25-26 at Purdue University.
Mechanical engineering majors Dylan Habig of Kokomo, Indiana; Timothy Mayer of Endicott, New York; Trevor Ransbury of Medina, Ohio; Brandon Frymire of Schaumburg, Illinois; and Luke McClung of Fort Wayne, Indiana, were recognized along with faculty co-advisor James Canino, Ph.D., for the top paper in the team category for "Optimization of a Lenz Style VAWT Geometry Utilizing CFD and Genetic Algorithms."
The team's senior design project was to optimize a rotor for a vertical axis wind turbine (VAWT) design. The team used a combination of wind tunnel tests and computational fluid dynamics (CFD) along with a genetic algorithm to complete the task.
After performing thousands of CFD simulations on hundreds of different rotor designs and comparing those to a dozen different wind tunnel tests, the students selected the rotor that will generate the most power utilizing winds typical in northeast Indiana.
Canino said the team decided to write a paper about their project and present it at the conference after being encouraged to do so by faculty co-advisor Kendall Teichert, Ph.D. Five additional Trine students attended the conference along with the design team and Canino.
The Trine entry beat out research papers from universities including The Ohio State University and Wright State University. In addition to a $500 cash prize for the team, one Trine team member is invited to represent the team and present the paper at the AIAA International Student Conference, to be held in conjunction with the 2023 AIAA SciTech Forum in National Harbor, Maryland, in January.
AIAA holds conferences in each region for university student members at the undergraduate and graduate levels. According to AIAA, the student conferences, sponsored by Lockheed Martin, are a way for students to present their research and be judged on technical content and presentation skills by AIAA members working in the aerospace industry.
"We are thrilled to return to in-person AIAA Regional Student Conferences. These events are key to giving students practical experience presenting their research findings and receiving valuable feedback from professionals in the aerospace community," said Dan Dumbacher, AIAA executive director. "We look forward to seeing how these students shape the future of aerospace!"
More than 170 papers were presented by university and high school students across six regions, with over 500 students and professionals in attendance.
Photo: Trine University mechanical engineering majors, from left, Trevor Ransbury, Luke McClung, Timothy Mayer, Dylan Habig and Brandon Frymire took first place with a paper they presented at the American Institute of Aeronautics and Astronautics (AIAA) Region III Student Conference. (Photo by Dean Orewiler)
Last Updated: 04/25/2022