Fabiani family legacy honored at dedication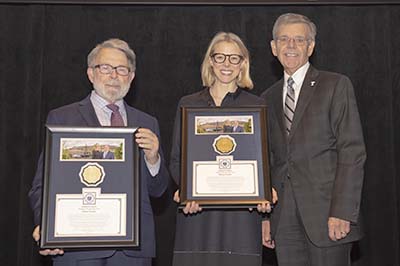 Though inclement weather prevented the dedication of Trine University's new Fabiani Hall from taking place outside the building as planned, the university found a location that was just as appropriate.
Members of the Trine University community gathered in Fabiani Theatre, named for family matriarch Virginia Fabiani in 2007, to celebrate on May 6.
"What a wonderful venue to gather in, that shares this family's name, for a special recognition," said Earl D. Brooks II, Ph.D., Trine University president, in welcoming trustees, faculty, staff and members of the Fabiani family.
Exceptional housing, exceptional family
Trine's newest residence hall opened in fall 2021. Built at a cost of $5.5 million, the 101-bed building features apartment-style housing similar to the university's Reiners and Stadium residence halls.
"Fabiani Hall provides exceptional housing for our students and represents an exceptional family," Brooks said.
Dr. Dante C. Fabiani, a 1938 accounting graduate of Tri-State College who became president of the Crane Company, was the first alumnus to serve as chair of the university Board of Trustees, a position he held from 1976-1979. He was first elected to the Board in 1967 and served as chair of its Development Committee for eight years.
In 1973, in recognition of his service, he was awarded Tri-State's honorary degree of Doctor of Business Administration, and in 1979 he was named chair emeritus of the Board of Trustees. He passed away in March 1999.
Virginia Fabiani, Dante's wife, continued to generously support Tri-State after Dante's death. She died in 2011.
"The couple built a legacy as benefactors of the university for more than 60 years," Brooks noted.
The couple's son, Jim, founder and CEO of the Fabiani and Company consulting firm, joined Trine's Board in 2001 and served as vice chair from 2008 to 2012. During that time, the university experienced tremendous enrollment and fundraising success.
Jim's daughter, Elizabeth Rooney, a vertical marketing lead for Google, joined the Board in 2014. Both currently serve as vice chairs and members of multiple board committees.
"Trine University is grateful for the legacy of the Fabiani family, which now spans three generations," said Brooks. "They not only have provided leadership for the university through decades of service on the Board, but financial support for many projects and scholarships throughout our history."
'Trine is family to the Fabianis'
In response, Jim Fabiani thanked Dr. Earl and Melanie Brooks for their friendship, as well as the Board of Trustees and Ralph and Sheri Trine.
"Eighty-eight years ago my father, at the age of 16, walked onto this campus from 699 miles away, Waterbury, Connecticut," he said. "My grandfather worked on yards in Waterbury and Dante joined him at age 13. One of the men whose property they took care of — I regret we don't know his name today — took a liking to my father. He was an alumnus of Tri-State University and he sent my father here to this institution and as a result my father got an incredible education."
His mother, Jim said, "engaged intimately in the university the last 20 years of her life and in that time built an amazing friendship with Earl Brooks and a lot of the trustees."
"Trine is family to the Fabianis," he said.
Elizabeth agreed, saying, "to have you consider rebuilding Fabiani Hall and keeping it in our name is quite an honor."
In addition to Jim and Elizabeth, the following Fabiani family members were in attendance: Barbara Fabiani; Elizabeth's husband Michael, their daughter Cece and son William; Madeleine Fabiani and Nick Sulzer; Kate Fabiani-Jaffe, her husband Andrew and son James; and Dave and Cindy Rooney, Mike's parents.
Photo: From left, Jim Fabiani and Elizabeth Rooney receive plaques from Trine University President Earl D. Brooks II, Ph.D., commemorating the dedication of the university's new Fabiani Hall on May 6. Fabiani and Rooney are members of the Trine University Board of Trustees as well as the son and granddaughter of Trine alumnus Dante Fabiani and his wife Virginia. (Photo by Dean Orewiler)
Last Updated: 05/10/2022