Montessori Early Childhood program earns 7-year accreditation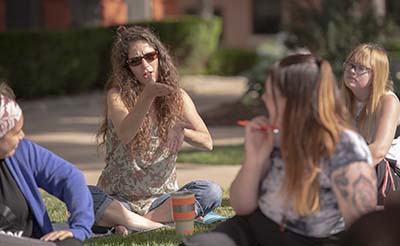 The Early Childhood program at Trine University's Center for Montessori Education has earned Full Accreditation Initial status from the Montessori Accreditation Council for Teacher Education (MACTE).
"By becoming accredited, the Center for Montessori Education at Trine University joins the ranks of top Montessori teacher education programs worldwide that prepare professional educators to enter the field of teaching at the highest level of quality and engage in continuous improvement," said Laurie Stockton-Moreno, director of the Center for Montessori Education at Trine. "This accreditation demonstrates to schools and families that teachers and the children in their care receive the highest quality education."
The MACTE Board of Directors voted to grant the status for a seven-year term to Trine's program at its June 21 meeting, based on submission of an acceptable interim report no later than Dec. 21, 2026.
Recognized by the U.S. Department of Education, MACTE accredits Montessori certification programs based on evidence that they prepare competent, caring, qualified professional Montessori educators and have the capacity to monitor and improve program quality.
"We are so proud of Professor Stockton-Moreno and her efforts to lead the Center for Montessori Education at Trine University through a successful accreditation process," said Tony Kline, Ph.D., dean of Trine's Franks School of Education. "By earning this recognition and becoming Indiana's first university to offer accredited Montessori teacher training, we believe our high-quality, whole child-centered programs will benefit educators and their learners in both traditional and Montessori school settings."
Launched in 2020, the Center for Montessori Education at Trine University offers one-year Early Childhood and Elementary I training programs in Montessori education. Students also can earn a Master of Education in Montessori Early Childhood Education by completing the Montessori training coursework plus one additional TrineOnline course.
"Our training allows Trine to meet the growing need for highly qualified child care experts and educators whose interest is in a developmental approach to learning and in inspiring discovery and innovation in the children they serve," Stockton-Moreno said.
"Parents recognize the value of early learning that addresses the natural, developmental needs of children and they value learning activities that support the whole child. Montessori education prepares children for life in the real world, builds confidence that leads to strength of character and independence, and fosters thinking children who are kind, caring and responsible."
Photo: Aliya Franco, a student in the Early Childhood program at Trine University's Center for Montessori Education, gestures as her class meets outside on Trine's Angola campus. (Photo by Dean Orewiler)
Last Updated: 06/30/2022