Trine Fort Wayne project receives $2.5 million from Reiners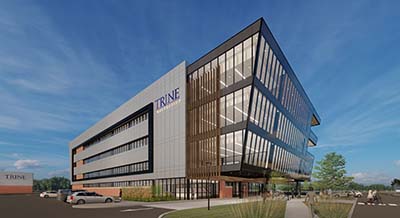 FORT WAYNE — Trine University has received a $2.5 million commitment from alumnus and Board of Trustees member Larry Reiners and his wife Judy, of Tulsa, Oklahoma, toward a new 120,000-square-foot academic facility that will house programs in its College of Health Professions.
"We are blessed by the generosity of friends and alumni like Larry and Judy Reiners, who have joined with us in supporting the vision for Trine University's College of Health Professions," said Earl D. Brooks II, Ph.D., Trine University president. "Through the generosity of many supporters, we look forward to the positive impact this project will have on healthcare and healthcare education as well as on the regional economy."
Long history of support
A 1965 civil engineering graduate from Tri-State College, now Trine University, Larry Reiners has spent more than 50 years in engineering design, project management, construction management, manufacturing management and corporate management with firms active in the chemical, petrochemical, refining, gas processing and other related processing industries. He joined the Trine University Board of Trustees in 2009, where he currently chairs the Academic Affairs and Student Services Board Committee and serves on the Executive Committee and Committee on Trustees.
"My Tri-State College equipped me to have a successful life and career, and Judy and I are glad to give back to not only support future generations of students, but the health, economy and quality of life of northeast Indiana," said Larry Reiners.
Larry and Judy Reiners have advocated for Tri-State and Trine University, and for higher education, for more than 45 years. They have supported the university annually for more than 20 years through the Fawick Hall master plan and the New Horizons, Vision for the Future and Invest in Excellence capital campaigns.
In 2009, Trine University dedicated the Reiners Department of Civil and Environmental Engineering in honor of the Reiners' commitment and support and their $1.5 million gift for the department. In 2015, a gift from the couple played a major part in the construction of the Larry & Judy Reiners Residence Hall. Since then, they have generously supported the Thunder Ice Arena and the MTI Center, where the lobby and hospitality suite, respectively, are named in their honor.
In 2018, the couple donated $1 million to establish the Larry & Judy Reiners Endowed Scholarship Fund. Earnings from the fund provide scholarships, renewable for up to four years, for six Trine undergraduate students each year.
Trine University Fort Wayne
Opening in fall 2024, the $40 million Trine University Fort Wayne campus, developed in close partnership with Parkview Health, will employ 100 faculty and staff and serve nearly 700 students in Trine's College of Health Professions (CHP), which currently includes its physical therapy, physician assistant, speech-language pathology, nursing and surgical technology programs. The new space will allow CHP to add new programs including occupational therapy, respiratory therapy, medical science and emergency medical sciences.
In addition to state-of-the-art classrooms and laboratories, the new facility will feature an innovative Simulated Patient Care Center (SimCenter) including mock surgery and Emergency Room suites and exam and patient rooms. The building also will contain ample resources for student support, including a library, bookstore, gathering area, academic support and counseling services.
Photos: Top, from left, Larry and Judy Reiners are recognized for their support of Trine University's MTI Center by Earl D. Brooks II, Ph.D., Trine president, during a ceremony in 2018. The couple has pledged $2.5 million toward the university's new Trine University Fort Wayne campus. At right, a rendering shows the new Trine University Fort Wayne facility, which will be located on the north side of Union Chapel Road near Interstate 69 in Fort Wayne.
(File photo by Dean Orewiler)
Last Updated: 07/26/2022